MEXICOLORE BRINGS MEXICAN CULTURE TO THE UNITED KINGDOM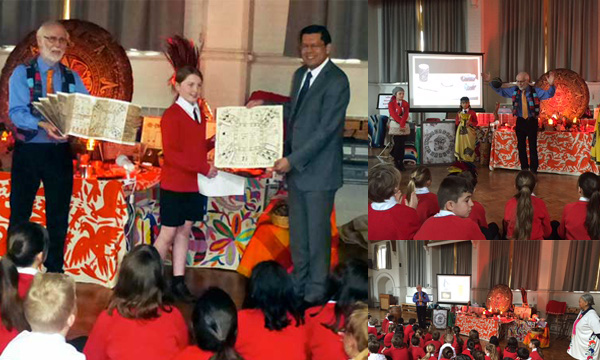 LONDON, United Kingdom, 4th April 2016.- On 21st March, The head of the Consular Section of the Embassy of Mexico in the United Kingdom, Anibal Gomez-Toledo, attended one of the workshops organised by MEXICOLORE, which provides special educational services and teaching resources on Mexico, specially about the Aztecs and Mayas, throughout England.
On this occasion, the workshop took place at the St. Stephen's Church of England primary school, located in Middlesex, in which participated more than 60 children around 9 and 10 years old.
During 2015, under the framework of the so-called Year of Mexico in the UK, MEXICOLORE invited the students of the schools, in which they presented their workshops, to mention the more impressive aspects about the Mesoamerican cultures. These presentations included the exchange of points of view and a trivia on the Mexican culture, the winners took home prizes, such as a mini replica of an Aztec codex.
Mexicolore, was set up in 1980 by the former Mexican dancer, Graciela Sanchez and the British consultant, Ian Mursell, and for more than 36 years they've been presenting interactive workshops about pre-Hispanic cultures of Mesoamerica throughout primary schools in England.
--oo000oo--