MEXICO IN THE INAUGURAL LONDON DESIGN BIENNALE 2016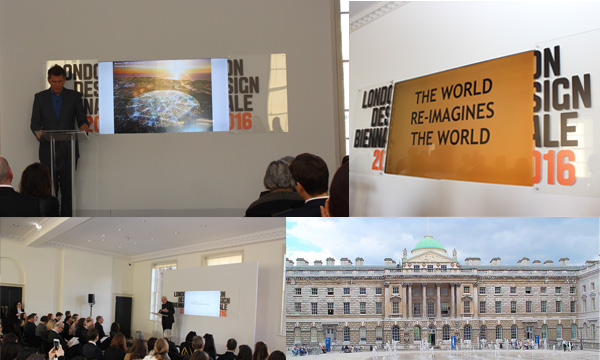 LONDON, United Kingdom, 1st April 2016.- Mexico will present one of the main exhibitions at the first London Design Biennale, from the 7th – 27th September 2016, at Somerset House in the heart of London.
The exhibition, which includes the participation of more than 30 countries, will present newly commissioned works that explore the theme 'Utopia by Design', showing contemporary design, design-led innovation, creativity and research. The London Design Biennale will explore big questions and ideas about sustainability, migration, pollution, energy, cities, and social equality.
The biennale was announced by Cristopher Turner, Director of the London Design Biennale, who said that the inaugural theme 'Utopia by Design' was chosen to celebrate the 500th anniversary of the publication of Thomas More's classic "Utopia", and to reflect on the rich history of the modernist design it inspired.
Amongst the initial projects are acclaimed Mexican architect Fernando Romero, collaborator in the project of the new international airport of Mexico City, who will present an installation of a sustainable city to explore the potential of charter cities.
The London Design Biennale is being produced by the team behind the London Design Festival and will take over the entirety of Somerset House, including The Edmond J. Safra Fountain Court and River Terrace, expecting a high number of visitors.

--oo00oo--