FLAVOURS OF MEXICO AT INTERCONTINENTAL PARK LANE HOTEL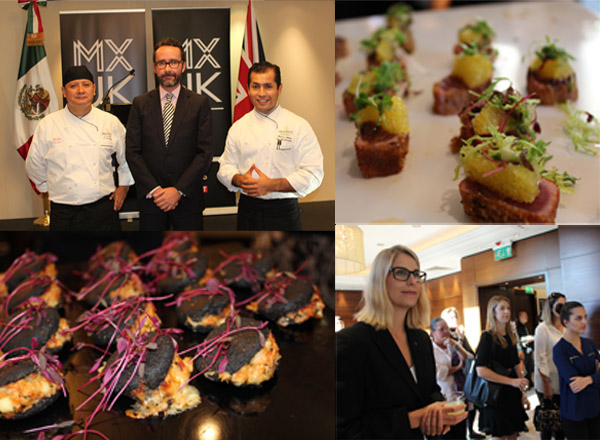 LONDON, United Kingdom, 11th September 2015.- In the framework of the gastronomic programme of the year of Mexico in the United Kingdom, Chef de la Vega and Sous Chef Mario Alberto Lopez were presented to british media, as master chefs of the Flavours of Mexico Festival at the Intercontinental London Park Lane Hotel.

From 12th -19th September, both chefs, will prepare artisan and traditional plates from Frida restaurant at the Grand Velas Riviera Maya Hotel, where both Chefs have been distinguished for the delicate balance they manage with the traditional ingredients of Mexican gastronomy, with modern technics.

In coordination with the Velas Resorts Group, Intercontinental London Park Lane Hotel, and Aeromexico, the Mexican Chefs will be offering plates prepared with sliced deer, crunchy maize, and avocado smash, as well as other combining cheese with chilly jelly, cochinita pibil, among others.

The Ambassador of Mexico, Diego Gomez-Pickering congratulated the presence of the two Chefs in Lonndon in order to showcase the best of Mexican Gastronomy, due to its tradition, finesse, delicatessen and variety it was declared UNESCO's Intangible Cultural Heritage of Humanity.

Chef Ricardo De la Vega has worked for top hotels and restaurants in Mexico and has a deep knowledge of the regional specialties that Mexican food is distinguished for, particularly in the states of Puebla, Oaxaca, Yucatan and Quintana Roo.

The diplomat also thanked the support of companies Pineda Covalin and MexGrocer for submitting chefs whose creations have distinguished contemporary without compromising its traditional essence in the Frida restaurant, which celebrates the legacy of Mexican painter and which has been awarded with Four AAA Diamonds.


--oo00oo--