'TRICICLO ROJO' PRESENTS VAGABOND AT THE EDINBURGH FESTIVAL FRINGE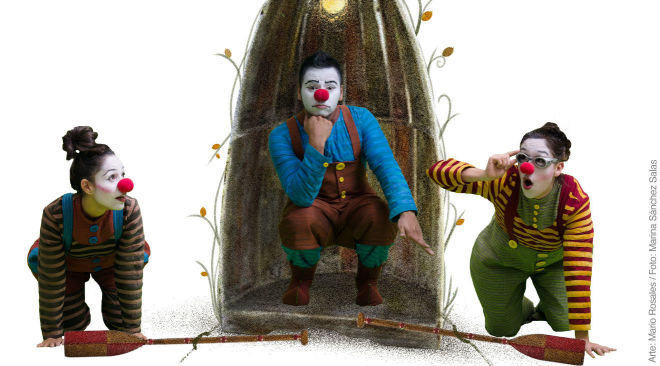 EDINBURGH, Scotland, 13th August 2015.- In the "Dual Year Mexico in the United Kingdom 2015", Mexico makes presence at the Edinburgh Festival Fringe, with the play 'Vagabond. Where will the wind take you?' by the Mexican theatre company Triciclo Rojo.
'Vagabond. Where will the wind take you?' will make presentations on the 13-17 and from 19-30 of August at the New Town Theatre in Edinburgh. Triciclo Rojo, founded in 2006, describes itself as "a shared pursuit to construct a poetic and philosophic dialogue along with children", presenting plays suitable for all kinds of public, fascinating the audience with the vast selection of topics and the grace of all its characters.
Triciclo Rojo will present their latest theatrical act 'Vagabond. Where will the wind take you?', this is the story of three vagabonds in search of happiness and how a dandelion transforms the meaning of their lives. The play pokes around the everyday gesture as a starting point for scenic exploration. It searches in clown logic for a fresh dancing language that fuses dance, digital animation and children's poetry.
The original score is from the Mad Marionettes, the virtual scenography, which pictures 3D images, was developed by Onirika productions. Emiliano Cardenas and Francois Durègne wrote the original script.
The Edinburgh Festival Fringe will present from the 7th until 31st August, more than 3,000 performances in 313 venues across Edinburgh. From big names in the world of entertainment to unknown artists looking to build their careers, the festival caters for everyone and includes theatre, comedy, dance, physical theatre, circus, cabaret, children's shows, musicals, opera, music, spoken word, exhibitions and events.
This festival is synchronised with the Edinburgh Art Festival, and because of that is why this British city is one of the cultural capitals of the summer with visitors from all over the world. Mexico´s presence in this festivals has literature, sculpture and theatrical premium quality just like Triciclo Rojo.
For more information and booking tickets visit this website.
--oo00oo--