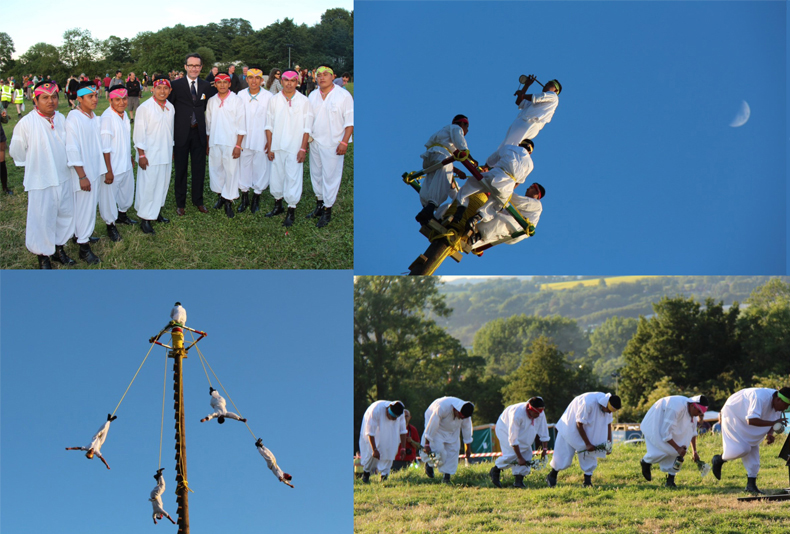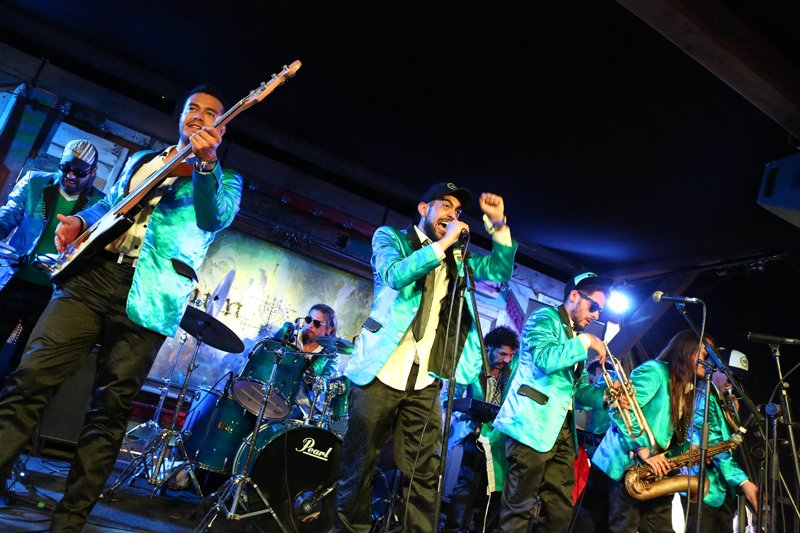 PAPANTLA FLYERS AND MUSIC BAND CARIÑO IN GLASTONBURY
SOMERSET, England.- As one of the main attractions of the Glastonbury Festival, which brings together for five days more than 200,000 people, the Papantla Fyers performed for the first time in the UK.
The also known as Totonacan bird-men shared their Cosmo vision by dancing at the rhythm of the flute and drum, inspired by the fertility ancient Mesoamerican ceremony, in the framework of the most important music festival in the world, in which this year the Dalai Lama will participate.
On 23rd June, just a few hours before opening its doors to visitors from around the world, the Ambassador of Mexico in the United Kingdom, Diego Gomez-Pickering, witnessed the legendary ritual which consists of a mythical dance and the climbing of a 20 meter pole from which four participants launched themselves tied with ropes and descended harmoniously back to the ground, while from the top, their leader accompanied them dancing and playing the flute and drum.
During a presentation to British media and before hundreds of people who enjoyed the  famous ritual, which has been designated by UNESCO as Intangible Cultural Heritage, the Mexican diplomat explained the importance of sharing the best of the culture and roots through the Year of Mexico in the United Kingdom.
With Salomon Bazbaz, founder of Cumbre Tajin; Haggis McLeod, director of the Festival and Alejandra Cuesta, from Expressarte, who coordinated the participation of the flyers from the State of Veracruz, Gomez- Pickering mentioned that through-out these presentations they are not only preserving one of the most representative and impressive rituals, but they are carrying-out the label as true "Ambassadors of Mexico".
The diplomat was pleased that Mexican music band Agrupación Cariño had been invited to represent Mexico in the Festival, where they shared with thousands of followers new hits like Maldita Tu and Espero que te acuerdes de mi.
--oo00oo--