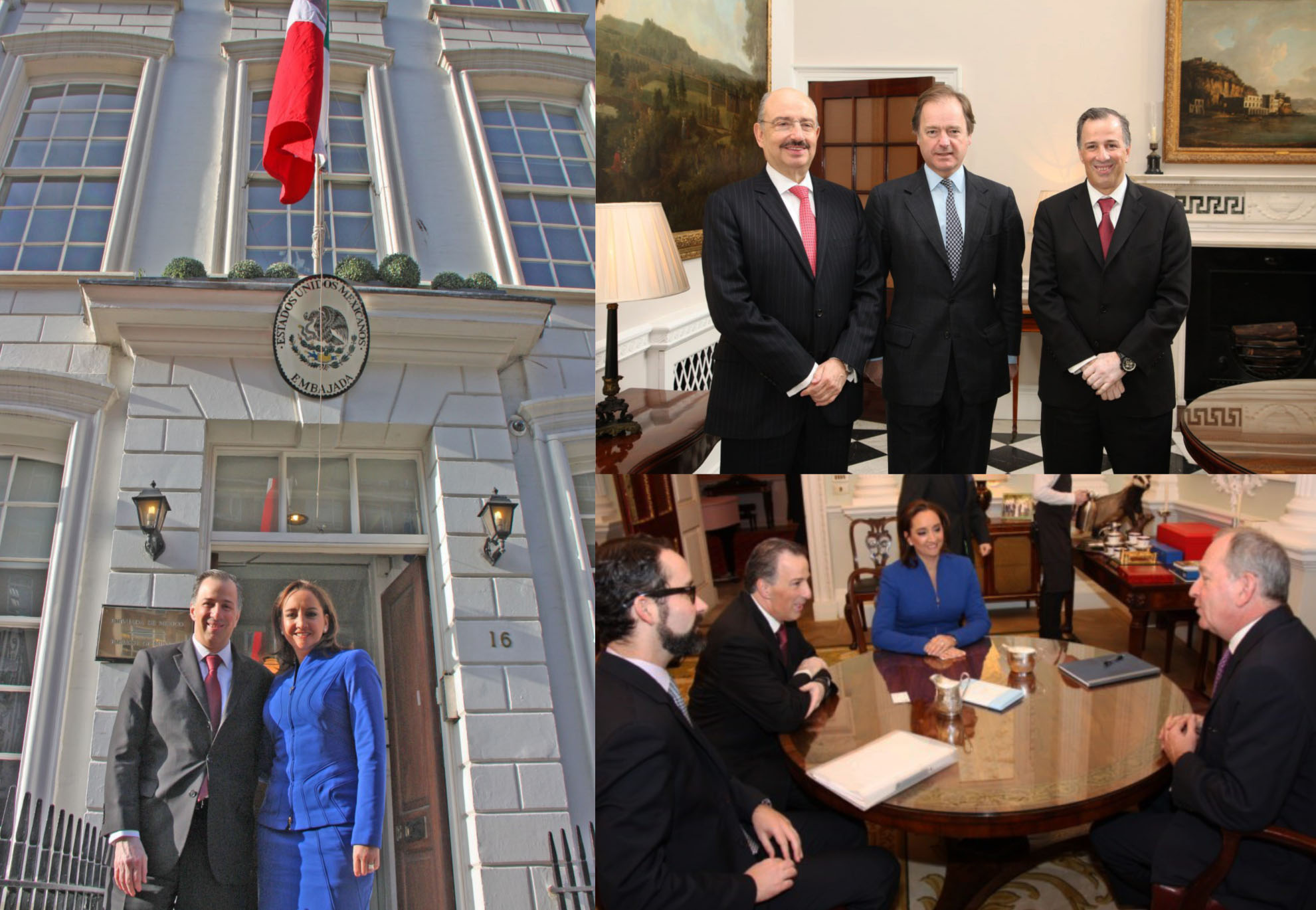 WORKING VISIT OF THE SECRETARY OF FOREIGN AFFAIRS TO THE UK
LONDON, United Kingdom, 9th February 2015.- The Secretary of Foreign Affairs Jose Antonio Meade, initiated a working visit to this capital city, where he held several meetings with British authorities to whom he updated about the potential of our country as a destination for trade, investment and tourism.
Accompanied by the Secretary of Tourism, Claudia Ruiz-Massieu, Secretary Meade met with The Lord Mayor of the City of London, Alan Yarrow, whose responsibility focuses on promoting financial and commercial interests of the city.
In this framework, the Mexican representatives recalled the goal of doubling bilateral trade to USD $7 billion (£ 4.2 billion) and increase to 500,000 the number of British tourists traveling to Mexico during 2015, designated as the Year of Mexico in the UK and the Year of the UK in Mexico.
The Lord Mayor of the City of London acknowledged that Mexico is attractive for entrepreneurs and British investors, since the structural reforms were recently approved by Congress and also welcomed the leadership role of Mexico in the conformation of The Pacific Alliance, as a modern mechanism to promote the mobility of goods, services, persons and capital, as well as to improve trade with the Asia-Pacific region.
Later, Foreign Secretary Jose Antonio Meade was received by Minister of State at the Foreign & Commonwealth Office responsible for Latin America, Hugo Swire, with whom he reviewed the current state of bilateral relations and the programme of the State Visit which will be carried out by President Enrique Peña Nieto from 3rd - 5th March, attending the invitation of H.M. Queen Elizabeth II, it includes meetings with members of the Royal Family, government representatives -led by the Prime Minister David Cameron- as well as with members of Parliament, Parties representatives, intellectuals and businessmen.
Secretary Meade held a working meeting with Deputy Prime Minister and Leader of the Liberal Democrat Party, Nick Clegg, who led last year in Mexico a delegation of 43 British businessmen to boost bilateral trade and investment, and who was received by President Enrique Peña Nieto.
The Foreign Secretary exchanged views with members of the Editorial Board of The Guardian newspaper, which has maintained a critical stance towards the government of Mexico with whom he shared information and statistics on safety as well as the detailed programme to improve security, justice and the rule of law in Mexico.
In the first of a two-day visit, in which he was accompanied by the Deputy Foreign Minister, Carlos de Icaza, the representatitve of the Mexican Government will participate in a dinner hosted by the Ambassador of Mexico in the UK, Diego Gomez-Pickering, with the assistance of Members of the British Parliament, opinion leaders, academics, representatives of think-tanks and other media, before them he will remember the historical changes that have taken place in Mexico to promote employment, investment, poverty reduction, tourism and international competitiveness.