THE EMBASSY OF MEXICO DID A WORKING VISIT TO BATH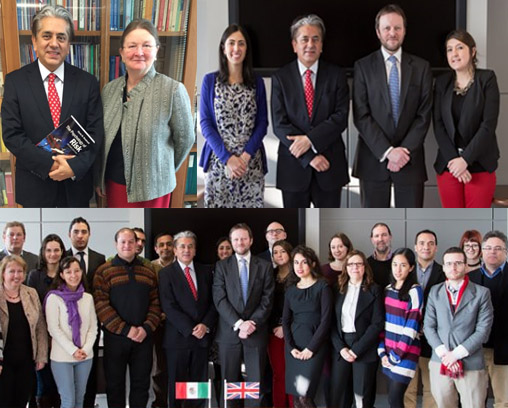 BATH, England., 22th january 2015.- A representation of the Embassy of Mexico in the UK yesterday visited the University of Bath in order to promote academic links and priority research projects with Mexico.
The Minister David Najera, Deputy Head of Mission, met with the Vice-Chancellor Glynis Breakwell and Professor Colin Grant, Pro-Vice-Chancellor, who chairs the Mexican Strategic Coordination Group, with whom he exchanged points of view on the activities programme in education, innovation and technical and scientific cooperation which will be held to commemorate the Year of Mexico in the UK.
Accompanied by Caroline Baylon, Head of International Relations, the diplomat toured the facilities of the University of Bath, ranked as one of the best institutions in the field of creative and artistic projects in the UK.
In this context, he held a constructive dialogue with Mexican students who the conveyed greetings from Ambassador Diego Gomez-Pickering, he explained that the initiative of the so called Dual Year aims to strengthen the level of collaboration and foster a better understanding between Mexican and British societies.
Najera referred to students and academics - figured Andreas Kyprianou-in addition to an ambitious agenda that seeks to present the best of creativity, history richness and roots of Mexico, the 2015 programme in the UK will also show a new way to consolidate projects of economic, commercial and tourist matters.
---oo000oo----