XIII SYMPOSIUM OF MEXICAN STUDENTS AND STUDIES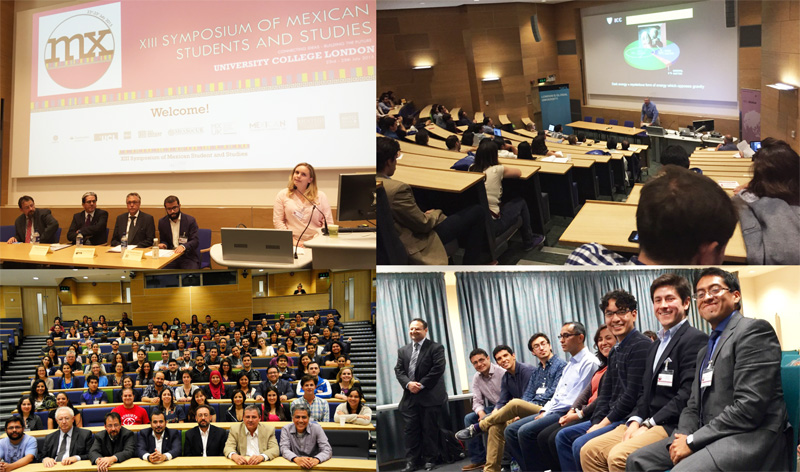 LONDON, United Kingdom, 28th July 2015.- The XIII edition of the symposium of Mexican Students and Studies took place in the United Kingdom, organised by the Society of Mexican Students in the United Kingdom (MexSoc) at the University College of London (UCL).
From the 23rd – 25th more than 180 students attended to the Symposium entitled 'Connecting ideas- Building the future', in which Mexican Physicist Carlos Frenk, of University of Durham, spoke about the universe cosmology, and Feggy Ostrosky of UNAM, exposed the role of education and the development of violence and criminality patterns.
The event gathered speakers like Denise Dresser, from ITAM –who offered another point of view of democracy and civil society power in México- as well as young scientists and Mexican entrepreneurs living in the UK, such as Juan Pablo Ramírez (Toyota Racing), Yorgos Friligos Reyes (Rolls-Royce PLC), Juan Navarro (Google) and Araxi Urrutia (University of Bath).
Beside the high-level conferences, the event usually consist of an academic programme which includes oral and poster presentations, workshop sessions and talks given by renowned speakers. The organizing committee also makes an extra effort to include a complementary social and cultural programme. Among the issues that were addressed, it highlights science and engineering, literature and culture, social and political development of Mexico, sustainability and obesity.
The Symposium of Mexican Students and Studies is an annual multidisciplinary meeting that aims at providing a forum for Mexican students to present their work, exchange knowledge and ideas. The symposium is also an opportunity for students from all nationalities working on Mexico-related projects to share and discuss their research with Mexican nationals.
In addition, during the Symposium it was held the award ceremony of the II Photography Contest "Mexico in the UK" organised by MexSoc, whose first place was obtained by Marco Antonio Becerra of the University of Birmingham. Also, the Symposium provided an opportunity to elect the new MexSoc Board, which will be chaired by Miguel Angel Nunez, from the University of Southampton.
--oo00oo--