SEMINAR OF MEXICO TOOK PLACE AT THE UNIVERSITY OF EDINBURGH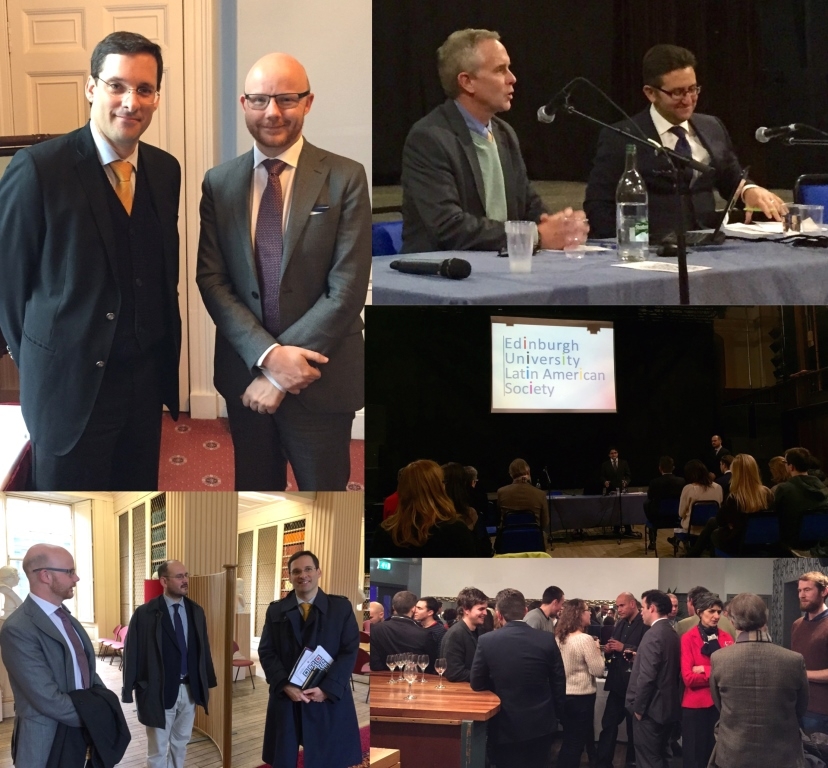 EDINBURGH, Scotland., November 19th, 2014.- Alejandro Estivill, Deputy Head of Mission of the Embassy of Mexico, accomplished a working visit to the University of Edinburgh, where he met with academics, students and offered a conference on foreign and national policy of Mexico.
The diplomat participated by invitation of the Centre for Contemporary Latin America Studies from the University of Edinburgh, entitled "Mexico Today: Meeting the Political Challenges in the XXI Century".
The event gathered important speakers such as Professor Alan Knight, one of the foremost specialists in Mexican studies in the world; Kate Smith, Director for the Americas of the Foreign and Commonwealth Office (FCO); Dr. Gustavo Vega, professor of El Colegio de Mexico(COLMEX), and Professor Mark Aspinwall, professor at the University of Edinburgh who is working currently at the Centre for Research and Teaching in Economics (CIDE).
Amb. Estivill took the opportunity to meet with Professor James Smith, Vice Principal International at the University of Edinburgh, who underscored that the University recently opened an office in Mexico, which not only seeks to attract more Mexican students, but encourage British students traveling to our country. In addition, the University of Edinburgh has strengthened academic links with prestigious universities in Mexico such as UDLA, CIDE, UNAM and ITESM.
As a result to the visit, academic authorities of the University of Edinburgh agreed to participate in the celebration of the Year of Mexico in the United Kingdom, by conducting more seminars in North America and particularly in Mexico.
--oo00oo--