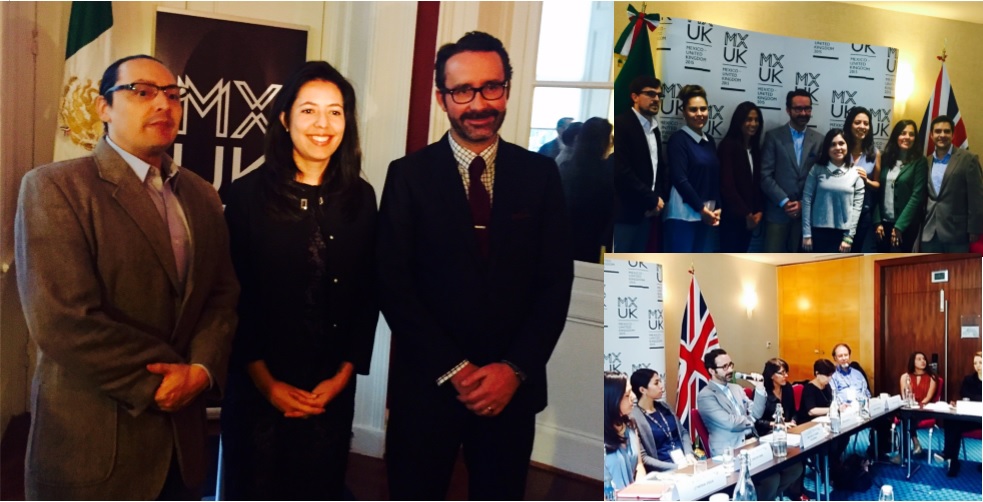 SECOND EUROPEAN MEETING OF THE GLOBAL NETWORK MX
LONDON, United Kingdom, 5th October 2015.- In the framework of the academic programme of the Year of México in the United Kingdom, the second European meeting of the Mexican talent network was celebrated from 1st – 3rd October 2015 as an initiative supported by the Institute of Mexicans Living Abroad (IME, for its acronym in Spanish). The meeting was attended by the presidents and representatives of 11 chapters in Europe of the Mexican Talent Network, and Jorge Zavala, Coordinator of the Global Network MX; Laura Hernandez, regional coordinator for Europe and Fernando Macias, regional coordinator for Asia-Oceania.
The meeting entitled "The Power of Many: Mexican Diaspora Leadership" sought to promote greater coordination among the various chapters of the Network in Europe to help strengthen the regional structure of the Network. Another of the main objectives of the meeting was to promote opportunities for European chapters to strengthen their ties with Mexico, creating greater cooperation opportunities with our country. In this context, among the guests that attended the meeting were representatives of the newly formed Node Veracruz and Node Zacatecas. One of the main objectives of these initiatives is to promote closer links between innovation and entrepreneurship centres in Mexico and the Mexican Talent Network overseas, presenting projects to the members of the networks to support and promote talent in Mexico, from abroad.
The event, inaugurated by Francisco de la Torre, Executive Director of IME and Diego Gomez-Pickering, Ambassador of Mexico in the United Kingdom, who highlighted that the network members represent the best that Mexico´s got abroad and invited them to continue to exploit the great potential to positively impact both Mexico and the countries where they are now. The meeting was attended by representatives of various government agencies that offer programmes and networking opportunities with the Global Network MX, as Christian González, from the National Council of Science and Technology (CONACYT) for Europe, Mario Gonzalez Alvarez, Director for UK, Ireland, Portugal and South Africa at ProMexico, and representatives of the National Institute of Entrepreneurship (INADEM) and the Government of the Mexican state of Jalisco.
The meeting also featured speakers from other countries to share their international best practices, such as Jadd Chamie, who spoke about his experience supporting the Lebanese diaspora through the MedGeneration Programme and Onyekachi Wambu, member of AFFORD in the UK, an initiative promoting that the diaspora boosts development in Africa. Indra Adnan, recognised expert in soft-power and Director of the Soft Power Network, gave a lecture in which she invited the members of the Global Network to use its soft-power to promote Mexico's image overseas.