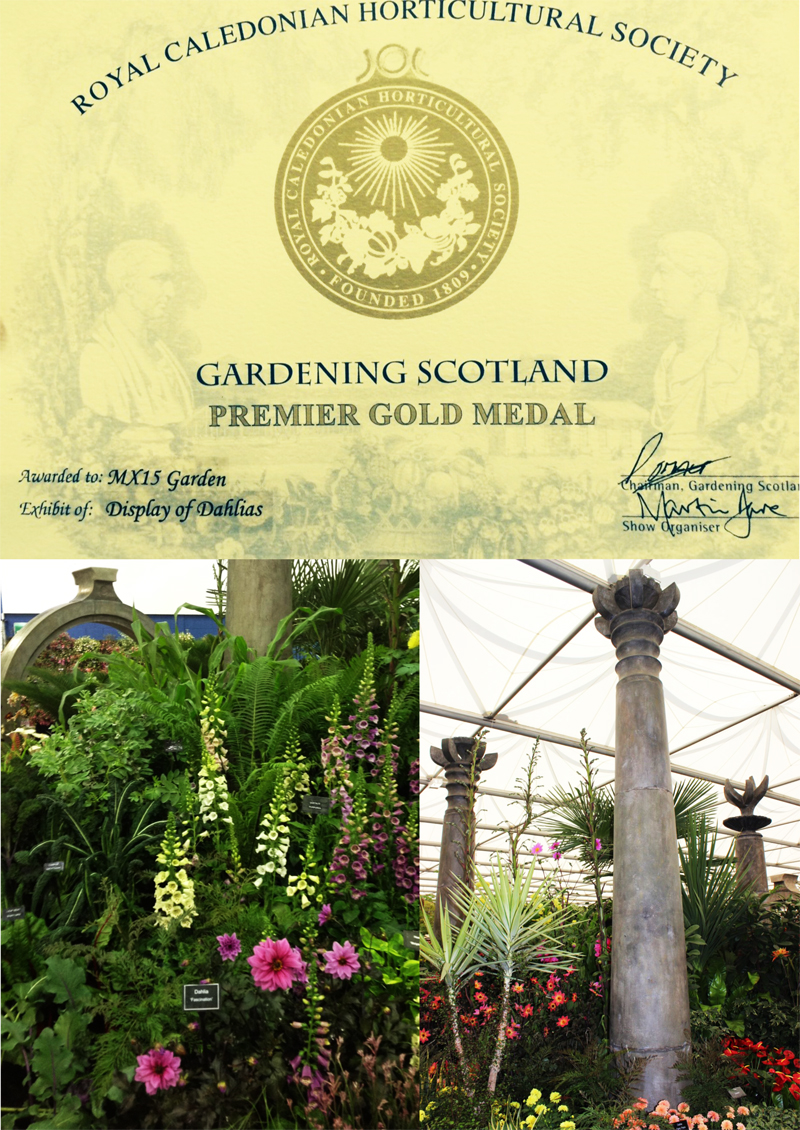 MEXICAN GARDEN WINS SECOND GOLD MEDAL IN THE UK
LONDON, United Kingdom, 10th June 2015.- The Mexican inspired garden 'Surreal Pillars of Mexico' won for the second time in a row the Gold Medal in Gardening Scotland just after winning the same prestigious award at the RHS Chelsea Flower Show.
The Embassy of Mexico presented in Gardening Scotland from 29th – 31st May the garden 'Surreal Pillars of Mexico' designed by Jon Wheatley and inspired in the masterpiece creation of Las Pozas, by the Scottish artist Edward James, in the town of Xilitla, in the Mexican State of San Luis Potosí. To recreate such garden a specialized scenery team was commissioned to reproduce the sculptures of the Scottish artist which through this design returns to his country of origin.
The presence of Mexico in both exhibitions, represents one of the main highlights of the Year of Mexico in the United Kingdom, officially announced by the Mexican President Enrique Peña Nieto and HRH the Prince of Wales during Fall 2014, with the aim to share with British people the diverse cultural heritage of our country.
Along with the structure of the pavilion of Mexico, inspired by the surrealist movement to which Sir Edward James was profoundly attached, the Dahlia -as national flower of Mexico and the symbol of its floriculture- will play a key role, since indigenous cultures such as the Toltecs and the Aztecs identified it as "water pipe flower" (Chichipatl) and "cane flower" (Cocoxochitl), respectively, due to the plants' stem.
The Ambassador of Mexico to the United Kingdom underlined the importance of showcasing the Surreal Pillars of Mexico garden in Scotland: "I hope you enjoy the variety of colours and forms presented in the garden, featuring sculptures by the Scottish artist Edward James, whose immense creativity left a footprint in our country, which I invite you to visit in the not so distant future".
The garden 'Surreal Pillars of Mexico' will be presented at the RHS Hampton Court Palace Flower Show from 30th June until 5th July in London.
Notes to the Editor:
• The pavilion of Mexico is inspired by Las Pozas, a magical garden nested in the thick jungles of San Luis Potosi in Mexico where Scottish artist Edward James found the perfect setting to create it. As part of the international surrealist movement, James' stages a labyrinth of doors leading nowhere and stairways to the sky amid waterfalls and ponds that prepare the mind for immersion into a dream like space where reality is displaced by fantasy.
• The Dahlia was declared to be the official flower of Mexico in 1963 and the 4th of August is its National Day. Today there are 42 species of dahlias, and Mexico is home to 41 of these species. The Dahlia has been in Europe for over two hundred years and in 1791 the director of the Royal Gardens of Madrid, named the flower in honour of a Swedish botanist, Andres Dahl.
• The Year of Mexico to the United Kingdom programme spans more than 100 separate exhibitions, concerts, festivals, academic workshops and artistic residencies; as well as trade missions, research projects, grants and scholarships. Taking place across a number cities in the UK including London, Cardiff, Edinburgh, Belfast, Manchester, Oxford, Liverpool and Birmingham, the Year of Mexico will showcase the country's long history and traditions; modern economic and commercial dynamism; and further underpin its reputation as one of the world's most exciting destinations for trade, investment and tourism. For more information please visit: http://mexicouk2015.mx/en/
- Alberto Lozano, Press Counsellor, Embassy of México This email address is being protected from spambots. You need JavaScript enabled to view it.
-Steve Gracey, Media Manager, UK Commercial Banking | Communications | HSBC BANK This email address is being protected from spambots. You need JavaScript enabled to view it.
---oo000oo---