SECOND EDITION OF 'SHAPED IN MEXICO' IN LONDON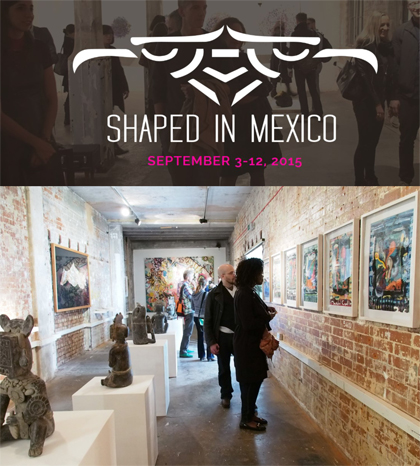 LONDON, United Kingdom 2nd September 2015.- As part of the programme of the Year of Mexico in the United Kingdom the second edition of the contemporary art exhibition Shaped in México will be celebrated from the 4th until the 12th September 2015 at Bargehouse, Oxo Tower in London.
The project was developed in Mexico, for the world, by the founders of DISTRITO 14 Art Project in Monterrey, and supported by the Margain-Junco Collection which brings together works by 32 international artists from México, Argentina, Colombia, Spain,
South Africa, Denmark and the UK. The free exhibition brings together over 200 works by 32 international artists working across painting, drawing, video, photography, performance, sculpture, and installation in an exploration into contemporary art from, and influenced by, Mexico.
Shaped in Mexico presented more than 200 works from international artists and curators such as: Lorena Junco, Silvia P. Morton, Daniela Fernández, Curator Olga Margarita Dávila, Raul Cerrillo and Mexican artist Francisco Toledo.
For more information contact:
Sophie Campos or Emma Gilhooly from Pelham Communications
Tel: +44 (0) 208 969 3959
This email address is being protected from spambots. You need JavaScript enabled to view it.
This email address is being protected from spambots. You need JavaScript enabled to view it.
--oo00oo--