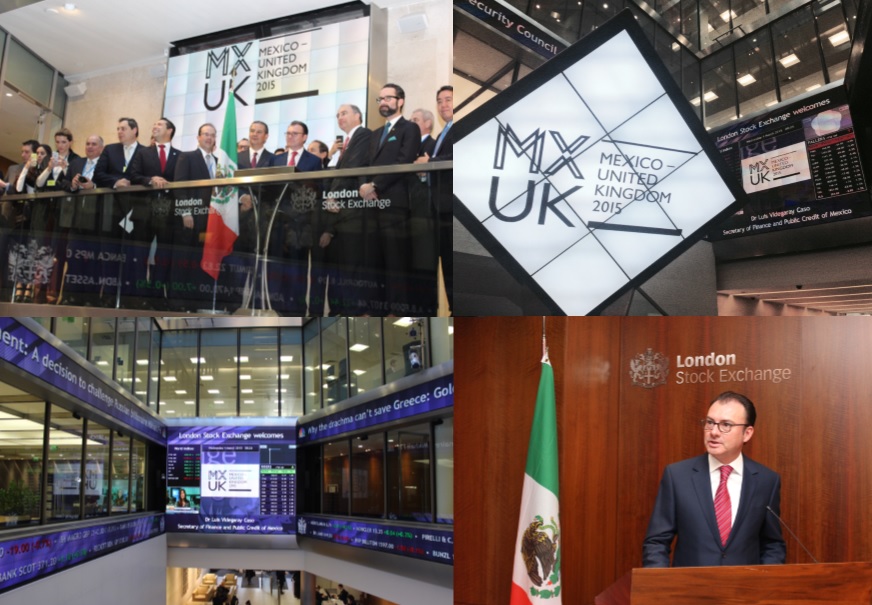 MEXICAN MINISTER OF FINANCE OPENS THE LONDON STOCK EXCHANGE
LONDON, United Kingdom, 10th march 2015.- In the framework of the State Visit conducted by Mexican President Enrique Peña Nieto, the Mexican Minister of Finance, Luis Videgaray, started operations at The London Stock Exchange.
During this event, held on 4th March, Xavier Rolet, the CEO of the London Stock Exchange Group, welcomed Minister Videgaray, and expressed his confidence in the positive results of this visit that occurs in the context of the Year Dual Mexico-United Kingdom.
In his speech Minister Videgaray thanked for the opportunity and emphasized the strong commercial ties between the two countries which will boost employment and investment opportunities as a result of the implementation of the structural reforms promoted by the Mexican Government.
Minister Videgaray highlighted that the London Stock Exchange is, in many ways, emblematic and recalled that it is considered as one of the most important in a global stage.
Regarding this, he expressed: "We are proud to have Mexican companies on the London Stock Exchange and we want to encourage more and more to join. Our job as government is to facilitate the necessary conditions for this to happen, in terms of economic stability that allow the private sector to invest, create jobs and promote growth."
Mr Videgaray also emphasized that Mexico was "the first country to issue a 100-year bonds in British pounds. This fills us with pride because of the trust that the community of British investors have shown in Mexico. "
The event was attended by representatives of Fresnillo, the Mexican mining company that pioneered trading on the London Stock Exchange, and Dr Videgaray was accompanied by the Ambassador of Mexico to the UK, Diego Gomez-Pickering, Mexican entrepreneurs, as well as the President of the Mexican Coordinating Business Council, Gerardo Gutierrez Candiani; the President of COMCE, Valentin Diez Morodo; the President of the CANACINTRA, Rodrigo Alpizar, and Chairman and CEO Hector Lagos Dondé from Monex Financial Group, among others.
http://www.shcp.gob.mx/SALAPRENSA/doc_comunicados_prensa/2015/marzo/comunicado_016_2015.pdf