MEXICO-NORTHERN IRELAND STRENGTHENS RELATION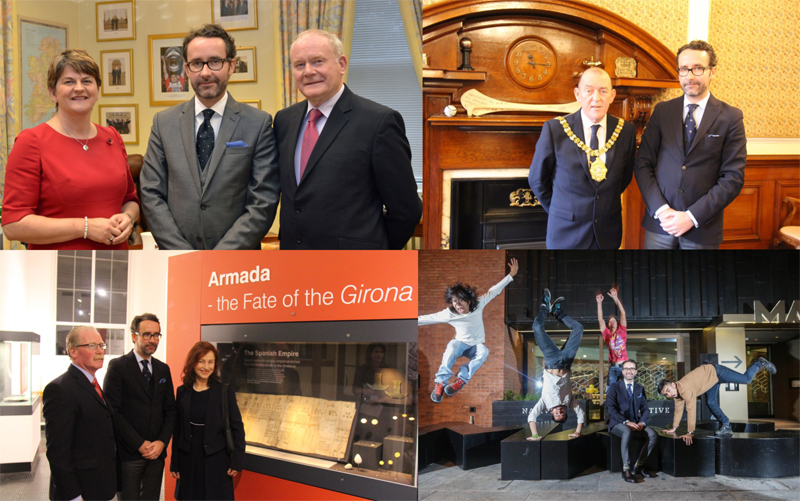 LONDON, United Kingdom, 30th October 2015.- In order to enhance academic, political, trading and tourism links with Mexico, Ambassador Diego Gomez-Pickering achieved a three days working visit to Northern Ireland, where he held meetings with members of the Mexican community, entrepreneurs, tour operators, as well as with representatives of government and various institutions.
During a meeting with Mexicans living in various cities, including the capital, the diplomat listened to their concerns and told them about the forthcoming opening of the Honorary Consulate, in the framework of the Year of Mexico in the United Kingdom, which will not only promote a rapprochement between the Mexican community established in Northern Ireland, but will also process consular services and assistance.
He explained that such representation -the first of its kind in the bilateral relation history between Mexico and Northern Ireland- will be useful for promoting the interests of our country in the economic, trading, cultural and tourism areas as well as to increase exchanges and cooperation in education.
The diplomat was also received in Stormont Castle by Arlene Foster, Acting First Minister and Martin McGuinness, Deputy First Minister, with whom he exchanged points of view on the scope and importance of the structural reforms enacted by the government of Mexico mainly in matters of education, energy and telecommunications.
He also held a meeting with the Lord Mayor of Belfast, Arder Carson, who expressed his desire to explore various mechanisms to strengthen the relationship with Mexico and, for that reason, he expressed his will to carry out a visit to our country.
To promote greater presence of Mexican students, Gomez-Pickering visited the Queen's University of Belfast, where he explained the importance of improving the exchange in the areas such as education, science and technology, and where he received a comprehensive explanation of the interest generated –internationally- in Cyber Security and Food Security Graduate and Postgraduate courses.
With tour operators he recalled the goal so that in the Dual Year between Mexico and the UK, more than half a million British tourists will travel to Mexico and also the need to promote the activity as an economic trigger, using Mexican gastronomy and increasing flying frequencies as elements to attract more visitors to new destinations.
The diplomat met with a group of young Mexican artists that currently are participating in the Belfast International Arts Festival, to whom he acknowledged their role as cultural "ambassadors". Afterwards he presided the opening of the exhibition of the Tepotzotlan Codex in the Ulster Museum, accompanied by the Director of the Board of Trustees, Miceal McCoy, and Dr. Elizabeth Baquedano, Professor of the Faculty of Social and Historical Sciences at University College London (UCL), who gave a lecture on its origin, with an audience never registered before.
--oo00oo--