MEXICAN ARTIST PEDRO REYES IN TURNER CONTEMPORARY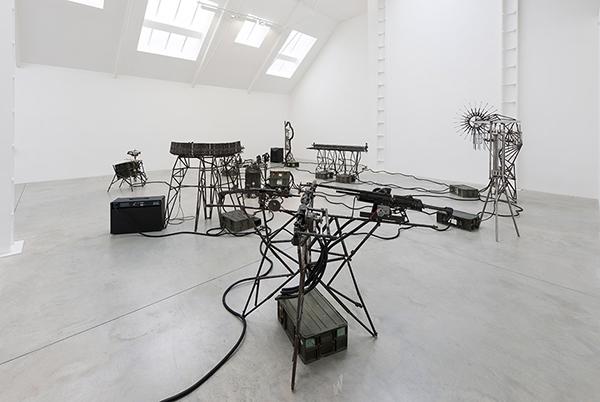 LONDON, United Kingdom., 22nd September, 2015. - This autumn Turner Contemporary presents the second installation by a Mexican artist in its Sunley Gallery as part of The Year of Mexico in the UK, with Pedro Reyes' Disarm (Mechanised).

Musical instruments were created from 6,700 firearms, including revolvers, shot-guns and machine-guns, which were crushed by tanks and steamrollers which were offered to the artist by the Mexican government following their confiscation in the border city of Ciudad, Juarez. This installation of mechanical musical instruments can either be automated or played live by an individual operator using a laptop computer or midi keyboard. Disarm (Mechanized) will be automated to play in Turner Contemporary's Sunley Gallery at intervals throughout the duration of the installation period.

For Pedro Reyes the process of transforming weapons into objects of positive utility was more than physical. "It's important to consider that many lives were taken with these weapons; as if a sort of exorcism was taking place, the music expelled the demons they held, as well as being a requiem for the lives lost."

Pedro Reyes was born in Mexico City in 1972, where he lives and works. He has won international attention for large-scale projects that take existing social problems and imagine solutions for a happier world. Pedro Reyes was awarded a Medal for the Arts in January 2015, by the US State Department for his substantive commitment to cultural diplomacy outreach through the arts.

Pedro Reyes's Disarm (Mechanized) will form part of Turner Contemporary's autumn exhibition Risk the first major UK exhibition to explore risk and art. Featuring more than 40 works from the mid-20th century to the present day. Following the presentation at Turner Contemporary, Disarm will tour to two European art festivals, CTM-Festival, Berlin (27 January 2016 – 28 February 2016) and TodaysArt - The Hague, Netherlands (September 2016).
--oo00oo--