MEXICO WEEK CONDUCTED IN LSE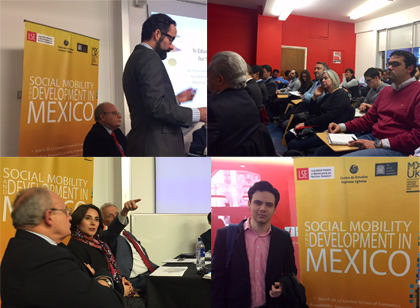 London, United Kingdom. 12th march 2015. - From the 10th to the 12th of March, the 16th edition of "Mexico Week" took place in the London School of Economics and Political Science, LSE. This relevant event is organized yearly by the Mexican Alumni Association in association with the current Mexican Student Society and the Department of Government in LSE.
This year, the discussions focused on social mobility and development in Mexico. The panellists addressed issues such as inequality and poverty, barriers that affect social mobility and constraints to economic growth in Mexico. The main objective of these roundtables was to propose new redistribution policies that promote economic growth and allow social development.
Ambassador Diego Gomez-Pickering highlighted in the frame of the Year of Mexico in the UK, it was a great honour to count with the participation of noted speakers from the political and academic fields of Mexico. Participants outstanded the presence of Enrique Cardenas, Director of the Center for Studies Espinosa Yglesias; Mario Palma, Vice President of the Board of Governors of INEGI; Mikel Arriola Federal Commissioner of COFEPRIS and Senator Armando Rios Piter.
--oo00oo—