CONFERENCE ABOUT MEXICO IS HELD AT THE UNIVERSITY OF YORK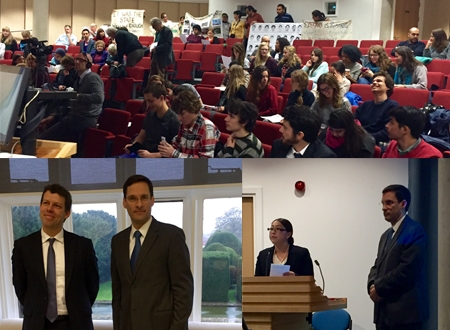 YORK, England., November 18, 2014.- Alejandro Estivill, Deputy Head of Mission of the Embassy of Mexico, conducted a working visit to the University of York, where he met with academics, students, and where he offered a conference on foreign policy.
The diplomat was received by Prof Koen Lamberts, Vice Chancellor of the University, with whom he discussed possibilities for cooperation in the areas in which this school outstands, such as economics, health science and life science applied to agriculture and renewable energy.
They also agreed on the participation of the University of York in the framework of the Year of Mexico in the United Kingdom, by performing an exhibition of Mexican art and other academic events in 2015.
During the working visit, held on 14 November, Estivill visited the Humanities Research Centre and the Department of Language and Linguistic Science. He also exchanged points of view with several University academics interested in strengthening ties with Mexico and underpinning the teaching practice of Spanish language. In this regard, they defined various strategies to let the Embassy stay closely linked to the growing interest in teaching the Spanish, as well as reinforcing international experiences of students of York in their various fields of interest through programmes of academic mobility with Mexico as a destination.
In the afternoon, Estivill gave a lecture to the university community, in which he addressed issues related to the multiple memberships of Mexico in the world and the objectives of its foreign policy. The event was organized by Dr. Elia Lorena Lopez, Mexican academic who is part of the University of York.
During the conference, Mexican students in the UK expressed their concern about the security challenges currently faced by our country. By invitation of the diplomat, they participated with him in a round table dedicated to address this subject.
---oo000oo---