LEONORA CARRINGTON EXHIBITION OPENS IN LIVERPOOL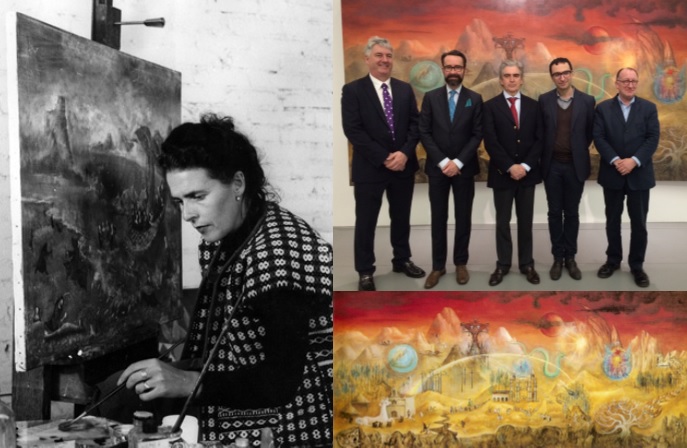 LIVERPOOL, United Kingdom, 9th march 2015.- In the frame of the Year of Mexico in the UK, the exhibition "Surreal Landscapes" of the Mexican painter Leonora Carrington was opened as part of Tate Liverpool´s spring season.
The exhibition -which centrepiece is a 4.5 meters long mural entitled: "The Magical World of the Mayas"- contains an overview of Carrington's creativity, British-Mexican novelist and artist, who included in her paintings eccentric characters, plants, animals, objects and unique characters, in the international surrealist movement.
As a prolific painter, Carrington consolidated its influence in the movement working alongside artists such as Salvador Dali and Max Ernst.  Daughter of a wealthy British industrialist from Lancaster, Leonora Carrington turned her back to upper-class education and moved to Mexico in 1941, where she established a unique voice within the vibrant creative culture of Mexico, this later evolved to position her as one of the leading figures of surrealism.
In Mexico, Carrington's work began to expand into the field of literature, also impacting the theatre and cinema and serving as inspiration for countless artists in diverse platforms of creative industries, nationally and internationally.
During the opening of the exhibition, which includes more than a hundred tapestries, poems and watercolours, Ambassador of Mexico to the UK, Diego Gomez-Pickering explained last Friday that showing Carrington´s work, which is included in the vast artistic programme of "The Year of Mexico in the UK 2015", aims to show to the people of Liverpool and the UK, the diverse cultural heritage of Mexico, its history and the best of its traditions.
Joe Anderson, Mayor of Liverpool said: "I am delighted that the Ambassador is visiting the city and equally delighted  that Liverpool is playing such a significant part in the Year-Long national celebration of Mexican culture."
For more information of activities in the city of Liverpool, related to the Year of Mexico in the UK, please visit the following web links:
http://mexicouk2015.mx/bienvenido and www.visitliverpool.com
Or you can contact Joe Keggin by email: This email address is being protected from spambots. You need JavaScript enabled to view it. or phone 0151 600 2977.
-