EXHIBITION WITH MEXICAN ARTISTS IN NOTTINGHAM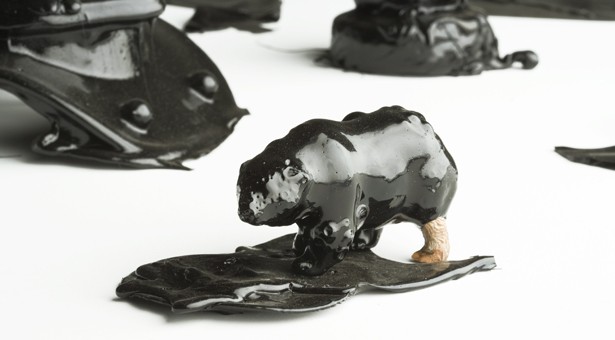 NOTTINGHAM, England, 28 January 2015.- The collective exhibition Rights of Nature: Art & Ecology in the Americas was inaugurated at the Nottingham Contemporary Museum, with the participation of Mexican artists Eduardo Abaroa, Minerva Cuevas and Fernando Palma Rodriguez.
The exhibition, which will be opened until the 15th of March is enlisted in  the cultural activities' program to celebrate the Year of Mexico in the UK, with the aim to show to the British society the best of Mexico's artistic creativity.
The three Mexican artists reflect their views on the devastation of ecosystems and the damage to the environment, from Patagonia to the Arctic region. Eduardo Abaroa presents a project imagining the destruction of the National Museum of Anthropology in Mexico City, while Minerva Cuevas shares a mural led to the expansion of agribusiness in Central America.
Nahua artist Fernando Palma participates with three life-size sculptures in recycled material showing a horse in agony, a kaleidoscope of butterflies and a ghost.
In the opinion of the Ambassador of Mexico to the UK, Diego Gomez-Pickering, the artwork of three Mexican artists in such exhibition reflects the diversity of Mexican cultural heritage and thus, will attract diverse audiences interested in their powerful message in favour of the ecology and sustainable development.
The exhibition will be accompanied by lectures, film shows, performances and a digital catalogue. With more than 3,000 square meters in exhibition areas, Nottingham Contemporary is considered among the most prestigious museums in the UK.
---oo000oo ---