CIII ANNIVERSARY OF THE MEXICAN ARMY AND AIR FORCE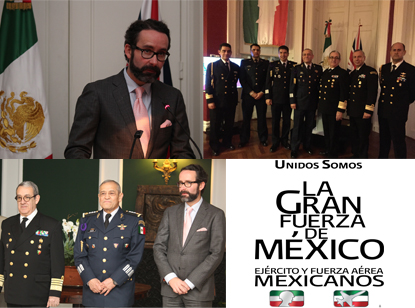 LONDON, United Kingdom, 24th February 2016. - A ceremony took place in order to formally recognise the key role of the Mexican Army and Air Force to preserve the sovereignty, independence, peace and security, contributing to forge a democratic country of rights and liberties.

To commemorate the 103 anniversary of The Great Force of Mexico represented by both institutions, the Ambassador of Mexico to the United Kingdom requested last night the company of Military, Navy and Diplomatic attachés from different countries to the Official Residence. Before them he endorsed the recognition of the Government to both institutions for their true commitment and loyalty to civilian authorities on security and against threats such as organised crime, which transnational nature demands a co-ordinated international response.

The Army and the Air Force, he said, assist communities in situations of emergency, and their personnel have been part of the National Crusade against Hunger, a country-wide strategy to reduce extreme poverty, and they have taken a vital position in the campaigns to fight the Zika virus, for example, even participating in the U.N. Peacekeeping Operations, currently deployed in Haiti, Lebanon and Western Sahara.

Previously, the Division General Jesus Pablo Franco-Martin, Military and Air Attaché of Mexico, recalled that besides the traditional role of combating external security threats, the Mexican Armed Forces also perform other duties closer to society, implementing the DN-III-E Plan inside the national territory and assisting communities affected by natural disasters, even outside our borders, like in the aftermath of the Hurricane Katrina in New Orleans.

In the ceremony also participated the Counter-Admiral Jose Nicolas Aguayo, Navy Attaché, and Admiral of México´s Navy, Carlos Ortega, deputy permanent representative appointed to the International Maritime Organisation (IMO).
---oo000oo---