ANNUAL MEETING OF MEXICAN AMBASSADORS AND CONSULS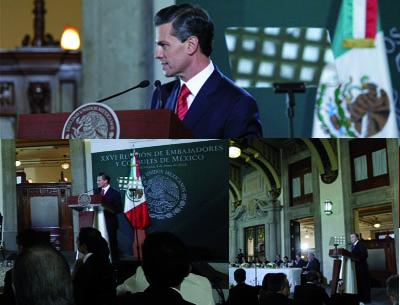 MEXICO CITY, 12th January, 2015.- The XXVI Annual Meeting of Ambassadors and Consuls of Mexico took place in this capital city, where leaders and representatives of the Ministry of Foreign Affairs (SRE) and various government secretaries and institutions, led by President Peña Nieto, to analise the challenges that global Mexico faces on the international stage.
During the 7th and 8th January, officials from the Federal Government dialogued with diplomatic representatives of Mexico on various strategies to address current challenges.
During that period, the Mexican Secretary of Foreign Affairs, Jose Antonio Meade, explained  the importance of Mexico's relations with Europe, and stressed as a priority the negotiation to upgrade the Free Trade Agreement  with the European Union.
He also referred to the unfortunate events registered in France: "I take this opportunity to express to the people and the French government,  our most sincere condolences for the attack which caused losses of lives, reflecting a face of intolerance which nobody can agree with".
"Mexico restates its rejection to terrorism in all its forms and manifestations, and reiterates its closeness to the people and a friend government in this time of sorrow".
As part of the meeting, the Ambassador of Mexico to the UK, Diego Gomez-Pickering, reminded to the media that precisely because of the importance that our country attaches to several European countries, particularly the United Kingdom, President Enrique Peña Nieto will conduct a State Visit from 3rd to 5th March, as a renewed example of the strategic relationship between both countries.
The Mexican President's visit will take place as part of the celebrations of the Year of Mexico in the United Kingdom, which includes more than one hundred activities with cultural, educational and economic components.
"It is a very important visit because it occurs at the highest level. The UK only receives two state visits per year, HM the Queen extended an invitation to President Enrique Peña Nieto," the Mexican diplomat concluded.
--oo00oo--