FESTIVAL OF MEXICO CELEBRATED IN BIRMINGHAM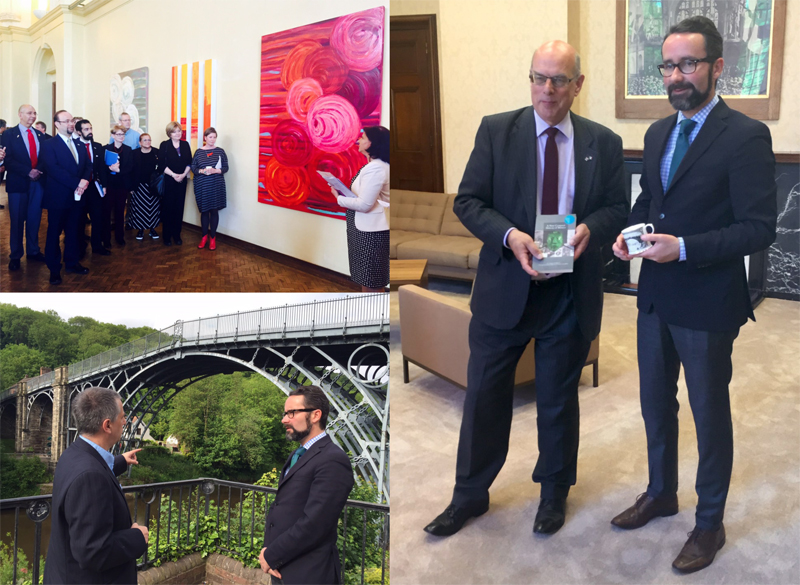 BIRMINGHAM, England, 8th June 2015.- The Festival MEX/BHX: Mexico was celebrated in the University of Birmingham, in the framework of the cultural and academic programme of the Year of Mexico and the United Kingdom.
From 1st to 6th June 2015 the student community celebrated Mexican culture through exhibitions, lectures, films, and gastronomy tastings, as well as two expositions by Mexican artists Amador Montes and Edurne Esponda.
In this context, a delegation of rectors of Mexican universities, accompanied by representatives from the UK Higher Education International Unit and the Mexican National Association of Universities and Institutions of Higher Education (ANUIES), visited the University of Birmingham in order to strengthen bonds and academic programmes between Mexico and the United Kingdom.
Ambassador Diego Gomez-Pickering and Prof David Eastwood, Vice-Chancellor of the University led the opening of both exhibitions of the Mexican artists Montes and Esponda.
The first exhibition, entitled: Own II Code is inspired by the colours and forms of traditional Mexican foods like ice-cream (sorbet), mole (a delicious sauce) and mezcal. During a tour, the artist explained that she tries to promote among people the reflexion on the impact of contemporary codes of fashion and gastronomy in their visual memory.
Regarding the exhibition of Montes, entitled: "The Other Wall", it reflects the contrasts between the migratory cycles of birds or fish in comparison with the human ones, and also the importance of artificial walls that are constructed to try to inhibit this natural phenomenon. Both exhibitions will remain open throughout June.
During his working visit, the Mexican diplomat also visited the Ironbridge Gorge Museum, a World Heritage Site by UNESCO in 1986 located at the campus of the University of Birmingham. It is noteworthy to mention that this institution, like the National Autonomous University of Mexico, belongs to a select group of schools that have World Heritage sites within its facilities.
---oo000oo---