YOUNG DIPLOMATS FORUM TAKES PLACE IN LONDON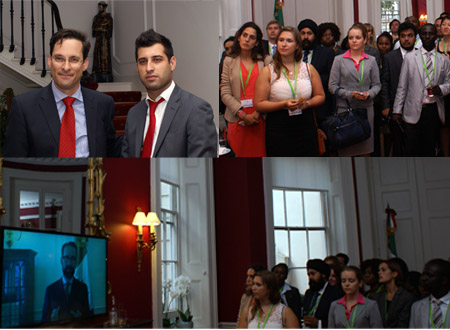 LONDON, UK, September 2 2014.- To promote future leadership and the discussion about global problems and the main challenges worldwide, from the 1st to 5th of September the Young Diplomats Forum (YDF) is taking place in this city
Like every year, the event is organized by the Global Diplomatic Forum with two editions – one in an itinerant venue and the other one in this city- with the purpose of gathering young people, students and professionals in a select conference that tends to enhance their professional development.
The forum allows young people to update their knowledge about global problems and worldwide challenges as well as to understand regional and international tendencies and exchange points of view about its solution.
Also the participants have the chance to get to know closer the labour and vision of Ambassadors and diplomats in this country as well as another actors that intervene in foreign policy, like MP´s and academics.
In a reception that took place in the official residence of the government of Mexico, the participants attested the welcome speech from Ambassador Diego Gomez-Pickering in which he recalled the challenges of the contemporary diplomat in international globalized world and in which technologies of the information plays an important role.
The video message of the Mexican diplomat which was streamed in a remote way, was followed by another one with images of the previous edition of the YDF which took place in the cities of Queretaro and Mexico City,  from 9 to 13 June 2014.
During the forum Susana Garduño, who is responsible of multilateral issues of the Embassy of Mexico and the representation of our country for international organizations in the UK, participated as a panelist. She was recently awarded by the DIPLOMAT Magazine as the Young Diplomat of the Year.
---oo00oo---