¡VAMOS! FESTIVAL CELEBRATES 'MX PROYECTA' IN LIVERPOOL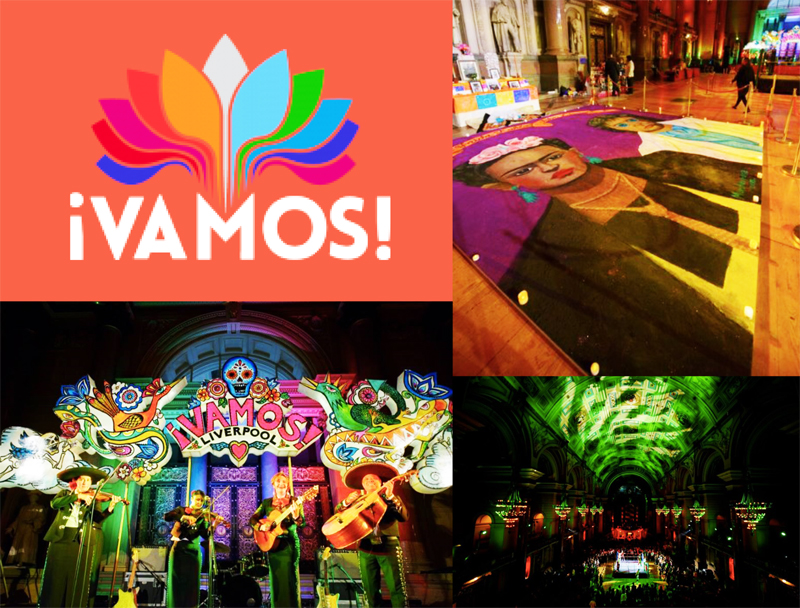 LIVERPOOL, England, 11th November 2015.- MXProyecta took place in the framework of ¡VAMOS! Festival which combined cuisine, art, film, theatre, dance, music, literature, fashion, sport and education offering an international festival appealing to partners and diverse mainstream audiences.
During the festival, which is celebrated since 2006, and for the first time was held in this city, it was attempted to break a Guinness World Record on 31st October, for the largest number of people dressed as La Calavera Catrina and/or her male counterpart, Catrine, in one place at one time, (more than 500 participants) during the commemoration of the Day of the Death.
A wrestling (lucha libre) presentation was part of the opening event in which traditional Mexican food and beverage were offered whilst a mariachi band played popular music.
Mexican crafts and design were also part of MXDiseñaStreet Market promoting products 100% made in Mexico with export quality standards. In addition, the papel picado (confetti), an altar and Mexican crafts workshops were presented by MXProyecta.
On 26th October at the Central Library of Liverpool the exhibition Frida and I (Frida et Moi) opened, developed at the Centre Pompidou in Paris and focused for kids in order to convey the imagination, power and magic of Frida Kahlo's work, in an interactive and fun way.
According to the curator Deidre Guevara Gallegos "Frida and I" is a workshop-exhibition inspired by the life and work of the Mexican artist, icon of modern art, which will remain open until 3rd January 2016 in Liverpool, a city concentrating the population of Latin American communities most important in the UK, after London.
During the exhibition conferences and workshops will be held, with guest artists taking on the life and work of Kahlo, who died in 1954 at the age of 47, and who is considered one of the most representative artists of the 20th century.
iVAMOS! is a national renowned festival that brings together 380 events for a calculated audience of 300,000 people in the UK and is carried out under the cultural programme of the Dual Year celebrated in 2015 between Mexico and the United Kingdom, with the participation of the Arts Council England it also includes an exhibition of Mexican fashion designer Manuel Cuevas, internationally recognised, and whose designs had been acquired by The Beatles.
--oo00oo--