CONFERENCE ON CHALLENGES OF URBAN ARTISTS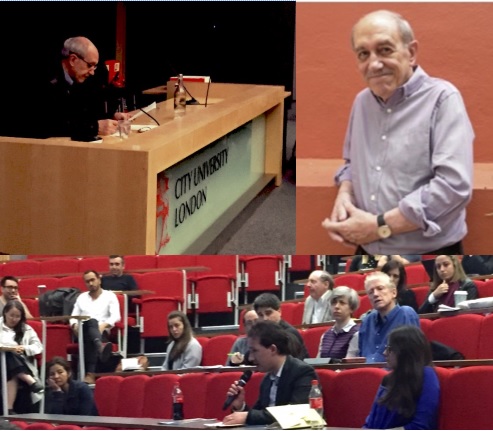 LONDON, United Kingdom, 13th May 2015.- Mexican Professor Nestor Garcia Canclini, Director of the Programme of Urban Culture Studies of the Department of Anthropology of the Universidad Autónoma Metropolitana de Iztapalapa offered yesterday a conferenced entitled "Space and Networks: Young People´s Creativity" in the City University London.
In the framework of the academic programme of the Year of Mexico in the United Kingdom, the renowned scholar and author of books such as La Sociedad Mexicana Vista Desde los Jóvenes (FCE) y Las Cuatro Ciudades de México (UNED), analysed the current situation of young artists in Latin American cities and explained advantages and challenges they face in the creative industry context.
In the Oliver Thompson theatre, located in the Tait building at the University, he also talked about the urban spaces that the region counts with and the opportunities they have to develop as entrepreneurs, as well as the influence and potential of the social media and post-neoliberal models that had sometimes influenced the artists.
During the conference, sponsored by the Embassy of Mexico, the academic specialised in the analysis of urban cultures in Latin America was accompanied by Angela McRobbie, professor of Communication at Goldsmiths and Gareth Jones, professor of Urban Geography at the London School of Economics and Political Science (LSE). In the same event also intervened Dr Cecilia Dinardi, Urban Studies Postdoctoral Research Fellow of the City University London.
--oo00oo--