MEXICAN FOREIGN POLICY CONFERENCE TAKES PLACE AT LSE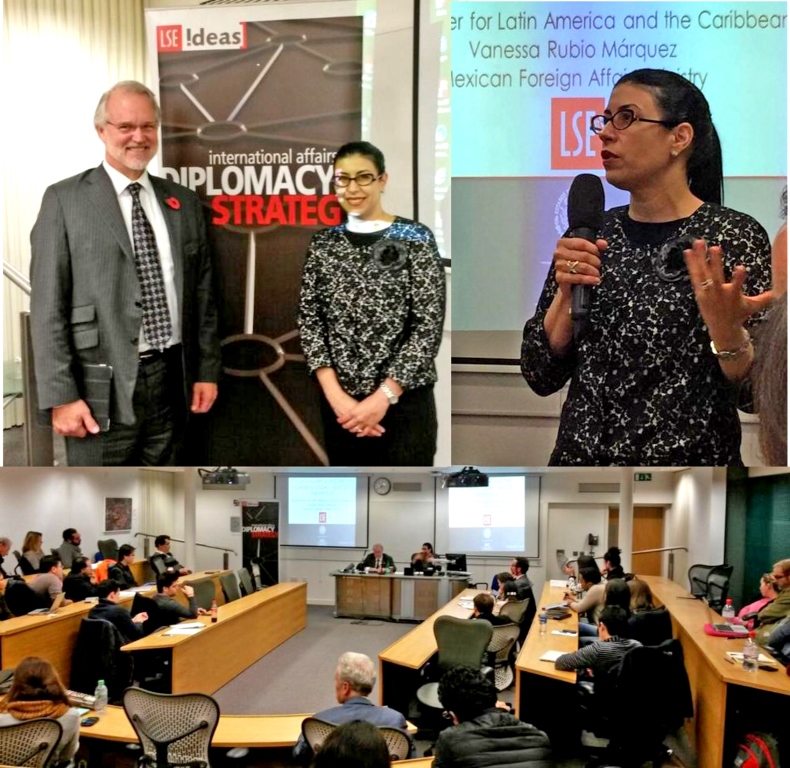 LONDON, UK, 13th November, 2014.- The Undersecretary for Latin America of the Mexican Secretariat of Foreign Affairs, Vanessa Rubio, accomplished a working visit to this capital city, which included a lecture at The London School of Economics and Political Science entitled: Latin America and the Caribbean: Mexico's Perspective.
In response to an invitation made by Prof. Craig Calhoun, director of LSE, the Mexican officer shared an overview of the historical events that have linked Mexico with Latin American countries, as well as recent achievements and current challenges of the regional agenda.
In her speech, Undersecretary Rubio explained how a foreign policy based on pragmatic and beneficial solutions has enabled progress in political dialogue and trade opportunities with countries such as Belize, Bolivia, Costa Rica, Cuba, Ecuador, El Salvador and Guatemala.
Referring to the role that Mexico has assumed as an actor with global responsibility, which looks forward to strengthen bilateral ties and increase its presence in regional mechanisms, the official recalled Mexico's tradition of asylum and refugee aid, its leadership in the Treaty of Tlatelolco for the Prohibition of Nuclear Weapons in Latin America and the Caribbean, in 1967, and its active participation in peace processes throughout Latin America.
She highlighted the progress achieved in the Pacific Alliance, which has generated such interest that in addition to its formal members (Chile, Colombia, Mexico and Peru), which includes 32 observer members and currently has two admission requests.
Before talking to the audience, mostly composed by scholars and students of the LSE, the Undersecretary announced that next December will be held the 24th Ibero-American Summit in the Port of Veracruz, the city of Guadalajara hosted the first meeting after its creation in 1991. For this edition, Mexico has led a process to revitalise the mechanism focusing it on three areas: education, culture and innovation, which were once the principles for its establishment.
On 11th November, Vanessa Rubio also met with Latin American specialists in the UK who discussed the latest developments in the region of 41 countries, inhabited by 570 million people.
--- oo000oo---