MEXICO CONFIRMS ITS REJECTION TO THE DEATH PENALTY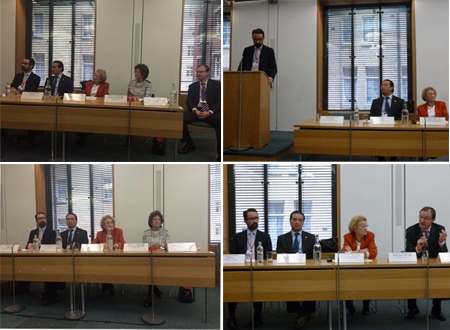 LONDON, England, 21th October, 2014.- Ambassador of Mexico Diego Gomez Pickering participated in an event organized in the Parliament on occasion of the World Day Against the Death Penalty.
In the event, held on October 15th organised by Baroness Joyce Anelay of Saint Johns, Minister of State at the Foreign and Commonwealth Office (FCO) for human rights issues, as well as Baroness Vivien Stern, Chair of the All Party Parliamentary Group on the Death Penalty, Ambassador Pickering Gomez recalled that Mexico rejects State executions, which last year alone surpassed 1,923 worldwide.
In the forum, moderated by Rob Fenn, FCO's Director of Democracy and Human Rights, the Mexican diplomat coincided with his pair of El Salvador, Werner Matias Romero, that consular protection activities are essential in countries where the death penalty is applied, because the justice system is not infallible and may be susceptible to judicial errors, deriving in cruel, inhuman and degrading punishments.
In this sense, Gomez-Pickering recalled how Mexico presented to the UN International Court of Justice (ICJ) in 2013 the case of Avena and Other Mexican Nationals who had not been informed of their right to prompt access to their consular authorities to make them sharers of this right without delay upon their detention in the United States, according to Article 36 of the Vienna Convention on Consular Relations, which led to a review of dozens of convictions, several of which were commuted to life imprisonment or less punishments.
In his speech, the Minister Anelay explained that the UK is opposed as a principle to the death penalty, and mentioned that her government has an active policy of legal support to 14 British citizens who have been sentenced overseas to death.
---oo000oo---