MEXICAN ARTIST RECOGNISED IN THE UK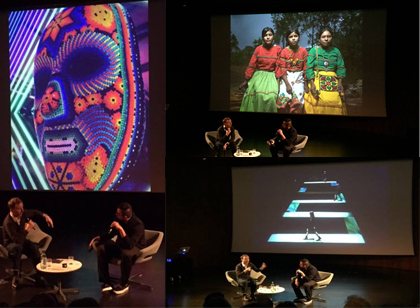 London, United Kingdom, 9TH February 2016.- On 5th February a talk entitled "Multimedia Renaissance Man" was held at the V&A Museum as a recognition to Mexican artist Tupac Martir.
In the Lydia & Manfred Gorvy auditorium at the V&A Museum of London, Tony Chambers, Editor-in-Chief of Wallpaper magazine reviewed Tupac's career collaborations such as the ones with Alexander McQueen, Xu Bing, Beyoncé and Sting, among others, which lead him to acquire the nickname of "magician of Light"   according to Vogue Italia and Wallpaper.
Tupac commented how through the process of experimenting with diverse digital media and lighting, he has achieved the ability of complementing -with illumination-  different works of art, exhibitions and artistic events.
Moreover, he stated that his development was comprised of his curiosity for different art disciplines and how, through this, he accomplished his masterpiece "Nierka", a multidisciplinary work of art that combines performance with visual arts.
The Mexican artist took the opportunity to talk about the launching of his Foundation which aims to support the development of the Huichol community in his home state of Mexico.
---oo000oo---