MEXICAN GASTRONOMY RECOGNISED IN LONDON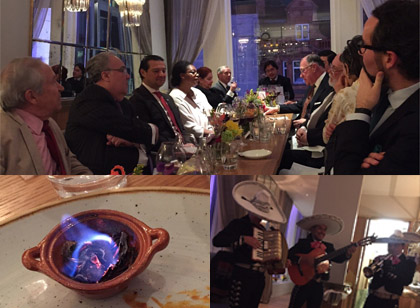 LONDON, United Kingdom 16th May 2015.- In the framework of the gastronomic programme of the year of Mexico in the United Kingdom, the Mexican Chef Daniel Ovadía -internationally considered as one of the most distinguished- was presented in Selfridges, in central London, during a dinner offered by Ambassador Diego Gomez-Pickering for the members of the group of Latin American and Caribbean diplomatic representations.
Owner of the Paxia restaurant located in San Angel, Mexico City, Daniel Ovadía, explained to the diplomats his re-interpretation of home-made food as part of the menu, served in clay dishes in The Corner restaurant at the referred department store, which is also exhibiting -until tomorrow- in its Food Hall, Mexican traditional products such as chocolate, vanilla, Oaxaca and Chihuahua cheese, as well as dry chillies and maize products.
The Ambassador of Mexico highlighted the effort that the Mexico Tourism Board is making to promote through Selfridges the diversity and authenticity of Mexican Gastronomy, recognised as intangible cultural heritage by UNESCO in 2010.
During the dinner –accompanied with Mariachi music and Mexican beer and wine with export quality- recalled that in the framework of the so-called London Restaurant Festival 2015 that began on 27th April and will finish on 23rd October, it will be showcased the vast Mexican Gastronomy as the guiding principle to promote tourism.
The Mexican diplomat referred that Chef Elena Reygadas owner of Rosetta restaurant was introduced last week at Lyle´s in Shoreditch, London where she received a recognition for her talent and trajectory.
--oo00oo--