MEXICANS AWARDED WITH THE OHTLI DISTINCTION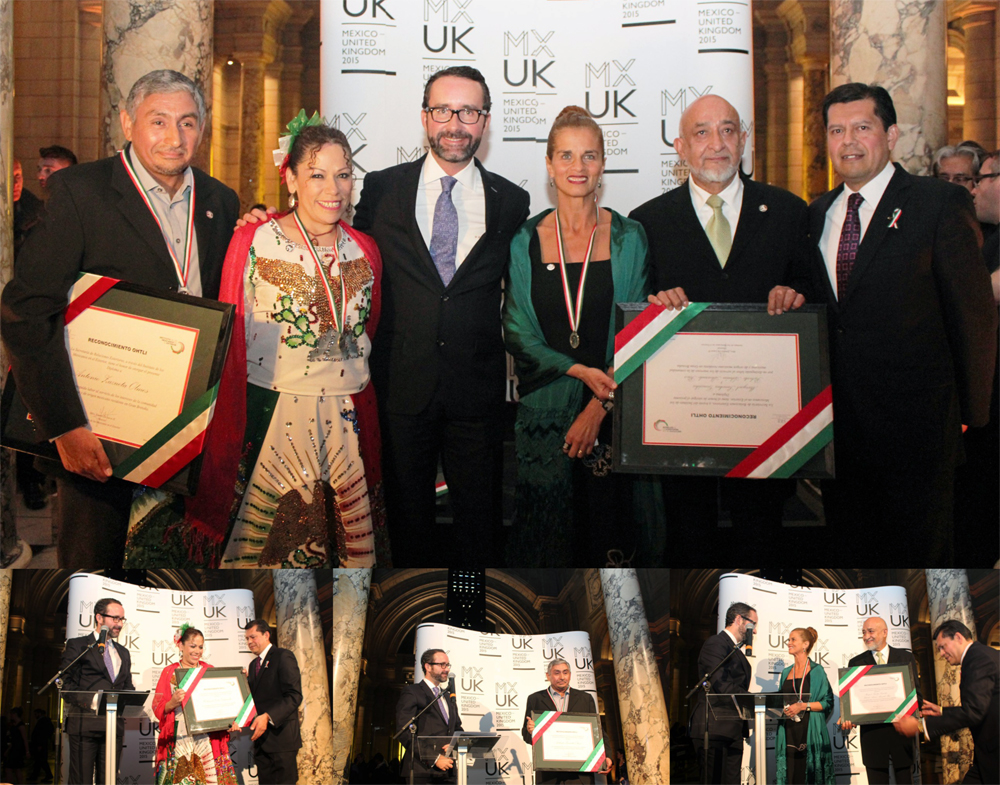 LONDON, United Kingdom, 18th September 2015.- Mexican citizens Hortensia Celis Valenzuela, Antonio Zazueta Olmos, as well as Marysol Sanchez Gonzalez and her husband Roberto Adrian Alvarado Rios, received from Ambassador Diego Gomez-Pickering, the Ohtli award, granted by the government of Mexico, due to the labour they had performed –voluntarily- promoting their country overseas and also because they had marked a path to follow by next generations of Mexicans living abroad.
In the framework of the commemoration of the CCV Anniversary of the Independence of Mexico, on 15th September, the diplomat explained that the Nahuatl word "Othli" means "way" or "path" and, based on the pre-Hispanic wisdom and traditions, refers to the "correct trail" or direction that our heart must follow to enrich itself and strive always to be better. These paths are pointed in the Nahuatl codex by footsteps. The award, granted by the Institute of Mexicans Living Abroad (IME, by its acronym in Spanish) from the Mexican Ministry of Foreign Affairs, is to strengthen relations with the Mexican community that resides outside our country.
Likewise, the Ambassador highlighted the fact that two women were rewarded, this demonstrates their contribution to the exaltation of our community in this country during the celebration of The Dual Year between Mexico and the United Kingdom.
The Ohtli ceremony awards was held at the iconic Victoria and Albert Museum in London (V&A), where hundreds of guests of the Mexican community, diplomatic corps, members of parliament, business representatives, scholars, journalists and representatives of the British government attended.
In this way, a medal, a silver ring and a diploma were granted to each one of them, it's noteworthy to mention the determination the winners had so they could break through in this country and their support for social and philanthropic causes in favour of other Mexicans in the United Kingdom.
For Marysol Sanchez and Roberto Alvarado, owners of the Mestizo restaurant, which pursues to offer authentic Mexican gastronomy, recognising the entrepreneurial spirit of the couple, a true pioneer in this field.
Hortensia Celis was applauded due to her work, not only as host of the radio program Hecho en Mexico which is intended for the Mexican community and the promotion of cultural events, but also her role as co-founder of one of Mexico's folk ballet most recognised in this country.
Respecting Antonio Olmos, photojournalist, the diplomat emphasized his outstanding career in Europe, capturing through his lens descriptive images worldwide related to human rights, armed conflict and nature, which all have been published by important newspapers such as The Guardian, The Independent and The Daily Telegraph, plus his collaboration with NGOs.


--oo00oo--