MEXICO PROMOTES PROJECTS IN LIVERPOOL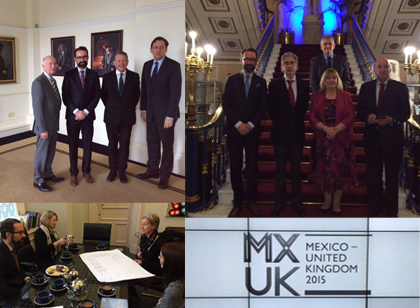 LIVERPOOL, United Kingdom, 18th march 2015.- In the framework of the opening of the exhibition of the British-Mexican artist Leonora Carrington at Tate Liverpool, the Ambassador of Mexico to the UK, Diego Gomez-Pickering completed a working visit that included government, business and academic representatives.
Accompanied by the President of Mexico's National Council for Culture and Arts (CONACULTA) they were invited to a dinner at the Townhall of Liverpool which was led by Councillor Wendy Simon as well as various members of the artistic community and local government.
The objectives of this visit was to review progress on the Mayas: Revelation of an endless time, which will be opened soon at the World Museum as one of the main events of 2015: Year of Mexico in the UK. The Ambassador spoke with Sharon Granville, Executive Director, Collections and Estate and Fiona Philpott, Director of Exhibitions, about museology and expectations of the cultural programme of 2015 which covers more than one hundred events.
Later he met with the Director of Culture and Tourism, Claire McColgan of the Liverpool government with whom he exchanged points of view of the potential offered by the city to promote tourism, gastronomy and the creative arts of Mexico in the northwest part of the country, thus helping to meet this year's goal of having over half a million British travelling to Mexico every year.
Finally the diplomat attended a meeting at Liverpool John Moores University with Vice-Chancellor, Lord Alton and Nigel Weatherill as well as with Professor Edward Harcourt with whom he addressed the possibility of educational projects of cooperation and academic dissemination starting from lectures that attract diverse audiences of institutions of higher education in Liverpool.
--oo00oo--