MEXICAN CULTURE AND GASTRONOMY PROMOTED IN LONDON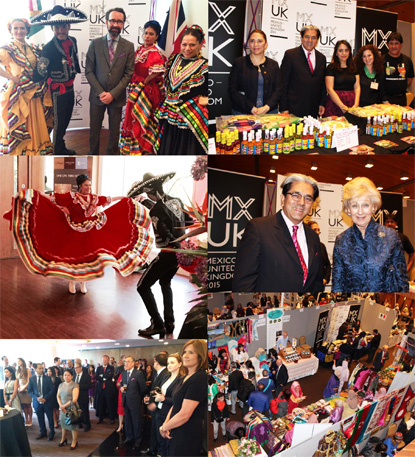 LONDON, United Kingdom, 14th May 2015.- In the framework of the celebration of the Dual Year between Mexico and the United Kingdom, the Embassy of Mexico participated in two events to promote Mexican culture and gastronomy; first in 56th International Spring Fair and Food Festival CFAB, annual charity event to be held in conjunction with the diplomatic community of more than eighty countries with offices in London and the annual reception of Embassies in Lancaster Hotel in this capital city.
During the fair, the space of Mexico was visited by Princess Alexandra -Cousin of Queen Elizabeth II- and her entourage who was received by Mexican diplomats, she expressed interest in Mexican food as well as the culture of our country. The Fair had an influx of more than five thousand people who enjoyed cultural diversity and in turn they support this cause, which aims to raise funds for the CFAB organization which works to protect children and reuniting families across borders.
The Ambassador of Mexico, Diego Gomez Pickering hosted a reception in honour of the diplomatic and consular corps accredited in the UK which is held annually in the Lancaster Hotel in London, this event fe atured a Mexican food tasting and folk dances. It is noteworthy to mention that it is the first time the event is held along with an Embassy, in this case Mexico.
During this Dual Year, Mexican cuisine has been the subject of various promotional activities in the UK. Currently the food of our country is one of three international cuisines with more demand among the British public, both in restaurants and in supermarkets.
--oo00oo--