MEXICAN STUDENTS PROMOTE SCIENCE IN THE UK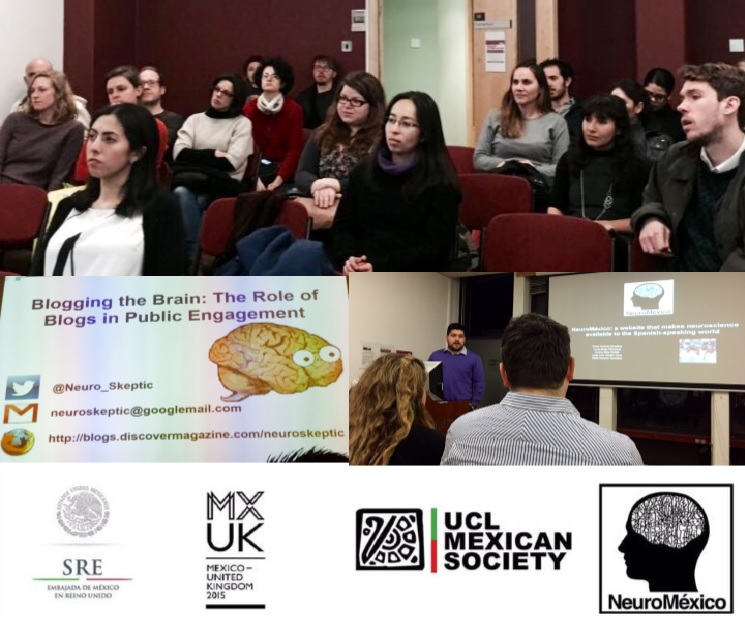 LONDON, United Kingdom, 21st January 2016.- During the final activities of the framework of the dual year between Mexico and the UK, and to celebrate the first anniversary of NeuroMéxico, the keynote lecture "The role of Blogs in Public Engagement" was offered at UCL, it was held by Neuroskeptic one of the pioneers and leaders in reporting online.
www.neuromexico.org/ is a popular science website, created by five young Mexican researchers who are neuroscience post-graduate students at UCL and the University of Groningen in Netherlands. The project emerged as an independent option to disseminate neuroscience in Spanish and aims to disclose various aspects of science in general, these concepts go from science philosophy and the critical analysis that derives from it, until the applications of the latest science and technology discoveries, and has been awarded by the National Council of Science and Technology (CONACYT).
The idea is simple but powerful: democratise science and take it to a point that it can achieve positive changes in students, academics and decision makers primarily related to health.
During the conference, the students explained that the website is a place for international and interdisciplinary collaboration born of the need to popularise science, particularly neuroscience, the Spanish-speaking community in general and Mexico in particular.
To date, the site has received nearly 170,000 visitors and has more than 19,000 followers on Facebook and 2,200 on Twitter. NeuroMéxico publishes an average of 10 articles a month and reaches a considerable audience worldwide, although most readers are Mexicans.
During the event it was recognised that NeuroMéxico and the work of all members of the Mexican Society of students of University College London (UCL) and the University of Groningen demonstrate the commitment of Mexican scientists who are prepared overseas to meet Mexico's tangible challenges, and how their temporary stay in other countries can be harnessed to share and disseminate their knowledge.

--oo00oo--