MEXICAN MANUFACTURING SECTOR PROMOTED IN THE UNITED KINGDOM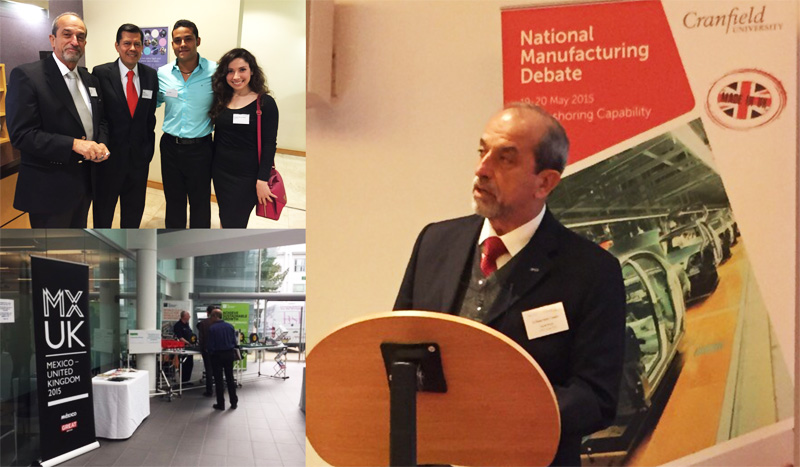 BEDFORDSHIRE, England, 21st may 2015.- Mexico participated in the sixth year of the National Manufacturing Debate hosted by the Cranfield University.
In the framework of the innovation and technology programme of the Year of Mexico in the United Kingdom Dr. Felipe Castillo Rubio, Deputy Director of the Engineer Centre and Industrial Development (CIDESI) of the Mexican National Council for Science and Technology (CONACYT) delivered a keynote speech at the conference entitled: 'Reshoring or Building Advanced Manufacturing Capabilities, Mexico´s case', along with Lord Alec Broers; John Cridland, Director-General of CBI and Professor Rajkumar Roy, Head of Manufacturing & Materials Dept. of the University of Cranfield.
Dr. Castillo underscored the economic and demographic strength of Mexico, as well as the capabilities of the manufacturing sector in the country, which highlights the development of the automotive and aerospace industry. The Mexican scholar reminded that the Aeronautical Sector in the State of Querétaro is an example of the new culture and capabilities that the country is improving to become a significant player in the Advance Manufacturing Industry.
In the opinion of the representative of CONACyT, Mexico has moved from a closed economy to a wide open market in a short time by establishing a set of incentive polices, specific education efforts and technological innovations in manufacturing processes and building a closer relationship between government, industry and academia.
On behalf of the Embassy of Mexico, Consul Anibal Gomez shared some thoughts with attendees and former alumni of the University, during a reception the night before. The diplomat welcomed the participation of the University of Cranfield in the Dual Year and emphasized that our country is a leader in manufacturing exports of high and medium technology and currently is recognised as the world-leading producer of flat screens and refrigerators, an achievement that only was possible by linking research and development.
---oo00oo---