MEXICO'S APPROACH TO JERSEY AND GUERNSEY ISLANDS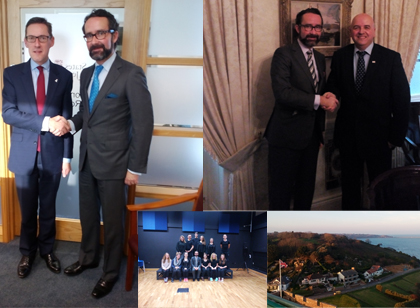 JERSEY AND GUERNSEY ISLANDS, 14TH December 2015.- In order to promote economic and academic cooperation, the Ambassador of Mexico Diego Gomez-Pickering achieved working-visits to both Channel Islands.
On 7th December the diplomat arrived in Jersey –the biggest of the Channel Islands which remained attached to the English crown- where he was received by Senator Ian Gorst, Chief Minister; Steve Read, International Treaties Manager and Lisa Hart, Lisa Hart, Deputy Greffier of the States, with whom he toured the States Assembly and the Royal Court.
The working visit included an interview with Rod Bryans, Minister for Education, with him the Ambassador analysed different options to strengthen the academic exchange with education institutions in Mexico, and also looking forward for the possibility to concrete a MoU.
The diplomat also performed a visit to Highlands College of University College Jersey, where he exchanged points of view with Principal Steve Lewis; Glenda Rivoallan, Vice-Principal and representatives of students associations.
On the same day, the Ambassador visited Guernsey, the second largest of the Channel Islands, situated 30 miles North West of France, it was governed as part of the Duchy of Normandy since 933, Guernsey remained a possession of the English Crown, but never became part of England or the UK. It isnow a British Crown Dependency.
There the Ambassador had breakfast with Deputy Jonathan Le Tocq, Chief Minister, to explore mechanisms for trade exchange and business opportunities with Mexico. For the same purpose he met Deputy Kevin Stewart, Minister for Commerce & Employment.
To complete the academic agenda, the diplomat held a meeting with Deputy Robert Sillars, Minister for Education and visited the College of Further Education accompanied by Sabhooi Famili, Chief Executive of Guernsey College of Further Education.
--oo00oo--