"FAUSTAFF" THEATRE PLAY SIMULTANEOUSLY PRESENTED
IN THE UK AND MEXICO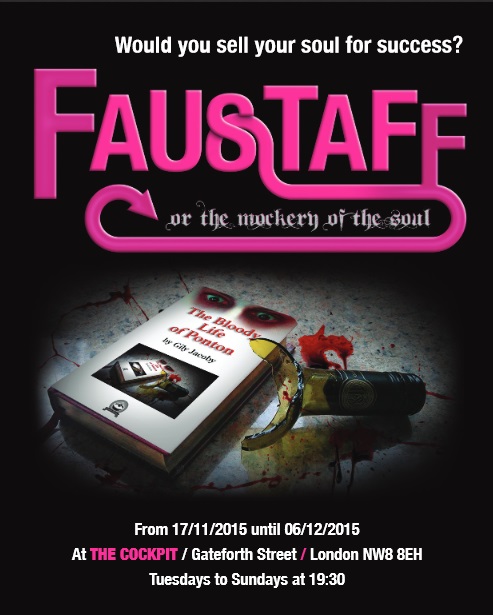 LONDON, United Kingdom, 19th November 2015.- As part of the cultural programme of the Dual Year celebrated between Mexico and the United Kingdom, the theatre play Faustaff (or the mockery of the soul),  is now presenting at The Cockpit Theatre of this capital city.
The Mexican Theatre Company La Compañia Perpetua in collaboration with UK's Artistic Producciones, is proud to present, from 17th November until 6th December, this international project that brings together Mexican and British artists. This is the story of an ambitious woman driven by greed and willing to do anything for success, even at the price of her soul.
Faustaff was written by the Mexican playwright, Diego Sosa and is a play inspired by the Faustian myth, set in the modern world and seen through female eyes. The title of the play comes from a blend of Marlowe's and Goethe's Dr. Faustus and Shakespeare's Falstaff, the mischievous character from Henry IV saga and The Merry Wives of Windsor.
Exploring the limits between fiction and reality, FAUSTAFF is set in a world where media has blurred those frontiers; a world where men and women are obsessed with power, money and social recognition; a world that has lost its sensibility towards tragedy, and violence has taken over.
The play is being simultaneously produced in both Mexico City and London. We are taking director Frank Kaye to lead a Mexican cast in Mexico and we are bringing director Rodrigo Johnson to lead a British cast in the United Kingdom.
For more information about dates and tickets, visit this official website.
--oo00oo--