CONFERENCE ON MEXICO´S SECURITY STRATEGY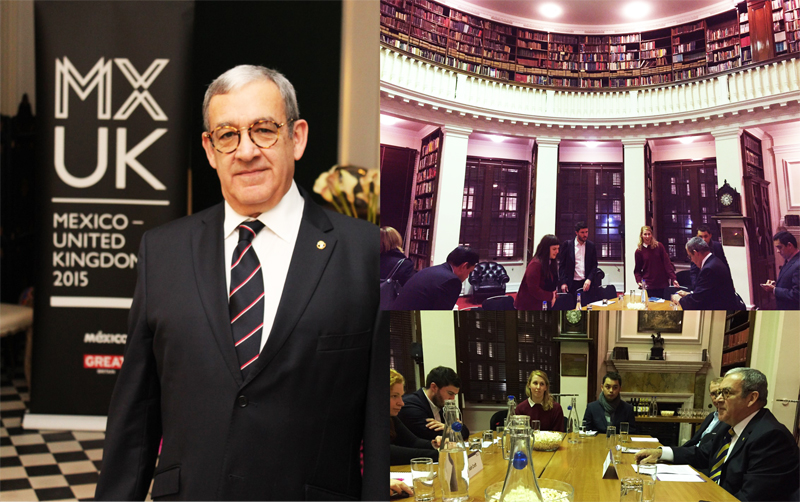 LONDON, United Kingdom, 9th December 2015.- The Admiral of México´s Navy  (SEMAR, for its acronym in Spanish), Carlos Ortega, offered a conference about the key role of this institution in security matters, at the Royal United Services Institute (RUSI).
The deputy permanent representative at the International Maritime Organisation (IMO) based in London, talked about the security challenges through a national strategy to face the global phenomenon of drug trafficking and the violence it has caused in many states in Mexico.
In front of diplomats, academics, students and representatives of RUSI, led by Hannah Croft, Research Event Officer and the Chair of the Under 35s Forum of the British think-tank dedicated to the analysis of international defence and security, Admiral Ortega referred to the complexity to confront organised crime in those states and municipalities where their police and law enforcement agencies lack the resources and training needed.
At the conference held on 24th November at the headquarters of RUSI, he referred to the cooperation that exists between SEMAR, SEDENA, and other federal institutions of the National Security Cabinet to deal with drug trafficking, through bespoke strategies for each region that already have had impact in various regions and in border states such as Baja California and Chihuahua, for example.
At the lecture attended by representatives of the Embassy of Mexico in the UK, which also included a round of Q&A, the Mexican Navy Admiral discussed the importance of policies of social development and crime prevention, as well as the new approach to tackle consumption with public health perspective and the pending project to create a national police force, with central control, as part of a comprehensive solution.
He also recalled that in general, the levels of violence in Mexico have decreased in comparison with those recorded in the immediate previous years and also with those that Brazil and Colombia are currently facing. He mentioned that various regions in our country, particularly in South-eastern Mexico, crime levels remain lower than in several countries in Europe.
---oo000oo---