MEXICAN WRITER HOMERO ARIDJIS PRESENTS MEMOIRS BOOK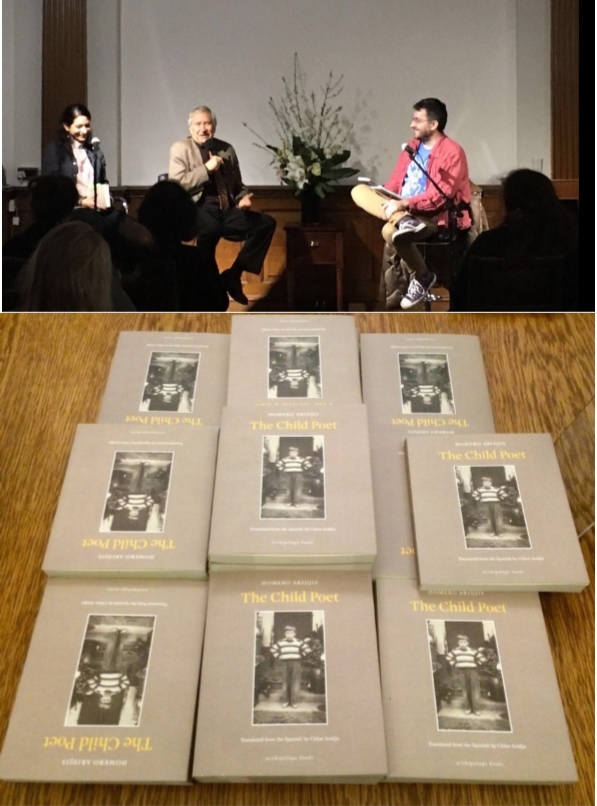 LONDON, United Kingdom, 21st March 2016.- The Mexican writer Homero Aridjis presented his book 'The Child Poet', at the headquarters of the Swedenborg Society.
The former Ambassador of Mexico to the Netherlands, Sweden and UNESCO, presented and  read in front of a group of intellectuals, diplomats, writers and guests, excerpts from his new book, translated to English by his daughter, Chloe Aridjis.
The Mexican novelist did the presentation of this literature work, formed by a series of six texts, in which he recreates reminisces powered by nostalgia of the lost paradise of a child's dreams in the transitation to enter the rough world of adult life.
As a co-host the Ambassador of Mexico Diego Gomez-Pickering referred to the story of some diplomatic-poets such as Gabriela Mistral, Pablo Neruda and Octavio Paz, and recalled that Aridjis is part of that tradition with over 40 books translated to 12 languages besides being recognised by Luis Buñuel, Yves Bonnefoy, Jorge Luis Borges and Octavio Paz, Mexican Nobel Prize in Literature.
Aridjis's work is credited with several international awards including the Dian-Novedades Literary Prize for his outstanding novel in Spanish "Memorias del Nuevo Mundo; The New York Times Notable Book of the Year" (1991) and the Grinzane Cavour Prize for "1492, Life and Times of Juan Cabezon of Castile", among many others.
He also chaired the PEN writers association, and since 2015 he is the President of the Swedenborg Society.
--oo00oo--