MEXICAN ARTIST EXHIBITION PRESENTED WITH AZTECS MOTIFS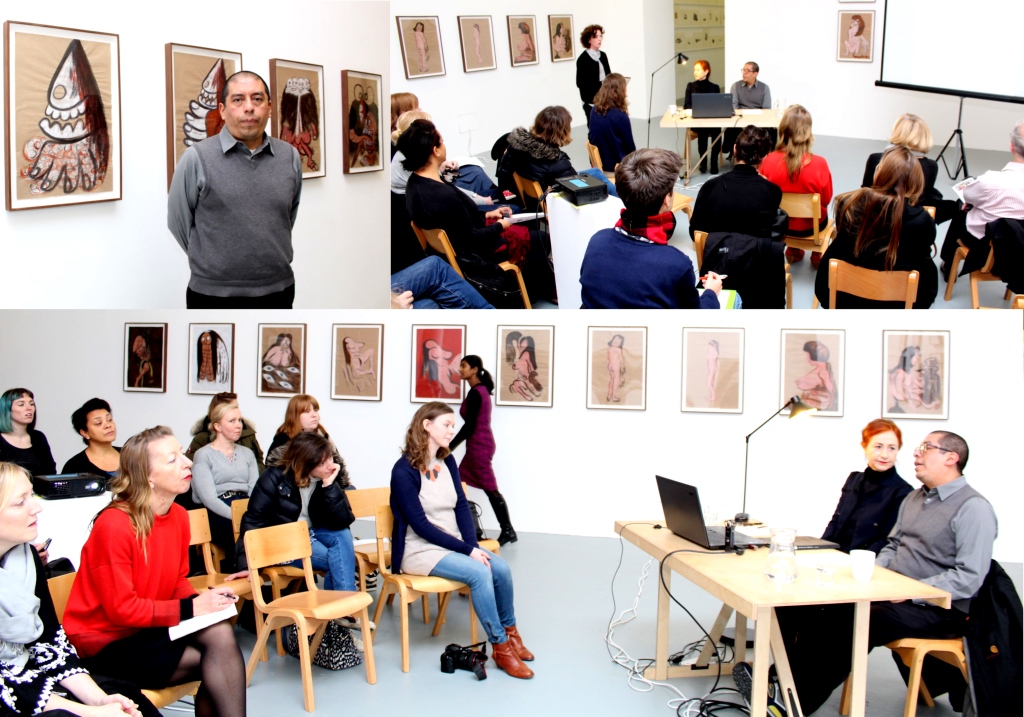 LONDON, England., 15th December 2014.- An exhibition of 30 drawings and Aztec iconography of Mexican artist Daniel Guzman was inaugurated at the Drawing Room gallery in this capital city.
The exhibition entitled Chromosome Damage, opened from last Saturday until the 21st February 2015, was subject of a previous analysis by Elizabeth Baquedano Mesa, archaeologist, Senior Lecturer at UCL, London and Institute of Archaeology, British Museum., who has been distinguished by her links with the British Museum -as an specialist of the Aztec culture- and who also wrote a book dedicated to the Aztec, Maya and Inca civilizations.
Baquedano and Guzman held an in conversation prior to the opening of the exhibition, in order to share the iconographic meaning of the work of the Mexican artist, developed mainly in pastels, charcoal and ink techniques.
Baquedano recognized Guzman´s imaginary work on Mexican and pre-Hispanic imagery and Aztec deities, goddesses and earth mothers whose mystical transformation growing extended limbs, multiple breasts and hands; feet become tree trunks and snakes coil round them, using earthy colours of browns, pinks and reds, are tantalisingly rich and provocative.
Besides the exhibition of his work in London, the Mexican artist, whose art has been exhibited in museums in Jalisco, Oaxaca and recently in New York, will participate in other projects in the framework of the Year of Mexico in the UK.