FRIDA ESCOBEDO DESIGN IS PRESENTED AT THE V&A MUSEUM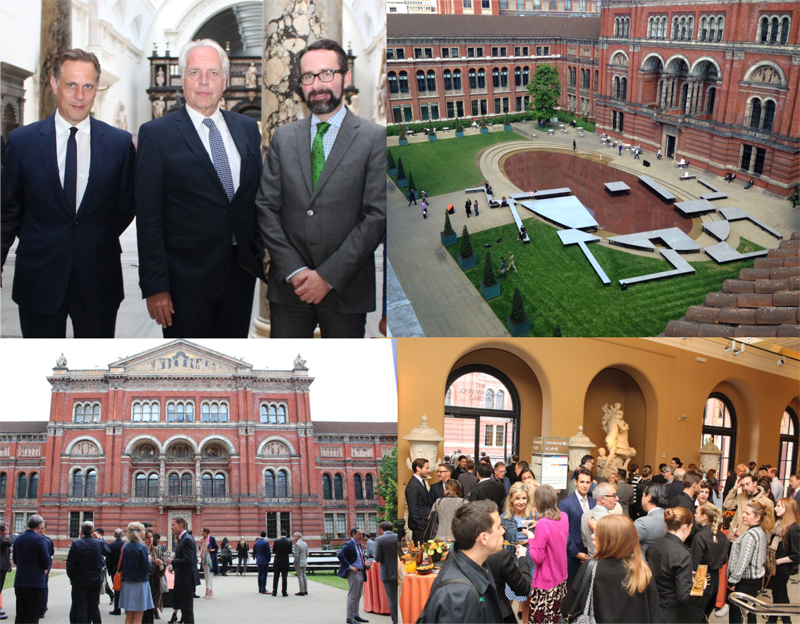 LONDON, United Kingdom, 11th June 2015.- The interactive design of the Mexican architect Frida Escobedo, entitled 'You know you cannot see yourself so well as by reflection', was presented at the John Madejski garden at the Victoria and Albert Museum and will remain open to the public –free entrance- until 2nd October.
The Mexican architect was selected as a finalist by a panel of experts from the V&A Museum with her project inspired by the ancient Aztec city of Tenochtitlan, with platforms with reflective cover, on which you can even walk, and were installed in the John Madejski garden. This intervention was presented on 8th June and will also be a fundamental part of the London Design Festival, which will coordinate the closing ceremony at the end of September 2015.
At the official ceremony, the Ambassador of Mexico, Diego Gomez-Pickering, reminded the audience that the intervention of Frida Escobedo is one of the most important events to be celebrated in the Year of Mexico in the United Kingdom as an opportunity to show Mexican youth talent to British and international public, potentially calculated in hundreds of thousands of people.
Along with the Director of the V&A Museum, Martin Roth and Ben Evans, director of the London Design Festival, the Mexican diplomat was pleased that the design of Escobedo is part of the London Design Festival, which closing date in mid-September 2015 will coincide with the commemoration of the Independence Day of Mexico.
"This year has a special meaning for us due to the fact that the UK was the first European country to recognise the Independence of Mexico and establish trade relations," he said.
Among other awards, Frida Escobedo was awarded the Young Architects Forum by the Architectural League in New York in 2008. In 2012 her work was presented at the Mexican Pavilion at the Biennale in Venice and at the Mission Cultural Centre for Latino Arts in San Francisco. Last year she was selected among the finalists for the design of the London Design Museum and nominated for the Mies Americas Hall Prize of Illinois Institute of Technology.
--oo000oo--