MEXICAN REPRESENTATIVES PARTICIPATE IN A RULE OF LAW COURSE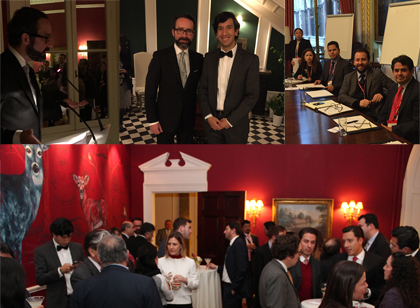 LONDON, United Kingdom, 19TH February 2016.- A group of representatives from Mexico currently working in the areas of International Law, National Security and transparency, of the three fundamental areas of government (Executive, Legislative and Judicial) participated in a course about the Rule of Law and Middle-East, organised by the Foreign and Commonwealth Office (FCO).
Since the beginning of the week, a first group of Mexicans from different Law Enforcement and Open Government agencies met with government officials, members of Parliament, think-tanks, former Ambassadors and NGO's representatives, who shared their experience in fields such as law enforcement and human rights.
Another group of participants of the so-called "UK-Mexico Leadership Initiative" focused on strengthening their knowledge about United Kingdom's perspective on the Middle East, since Mexico and the UK share the best interest for the stability in the region.
The independent Congressman from the Mexican state of Jalisco, Pedro Kumamoto Aguilar –who won the election almost without any funds, mobilising electors through the social media- recognised the advantage of the British initiative to promote a change in Mexico towards transparency and open government in order to achieve accountability and tackle corruption.
Representatives from the Secretary of Interior, Public Accountability, The Attorney General's Office, the National Security Commission and a Magistrate Judge of the Superior Court of Justice of the Mexican State of Tamaulipas, among others, had the opportunity to visit 10 Downing Street.
The Ambassador of Mexico to the United Kingdom offered last night a reception at the Official Residence of the Government of Mexico in which he celebrated the UK-Mexico Leadership Initiative of the FCO, which allows not only to share knowledge from British experts in strategic areas, but continues the cooperation between both countries, which last year jointly conducted more than 250 events on both sides of the Atlantic, promoting legislative, government, academic, cultural and economic exchanges.

--oo00oo--