MEXICO PARTICIPATES IN THE WORLD EDUCATION FORUM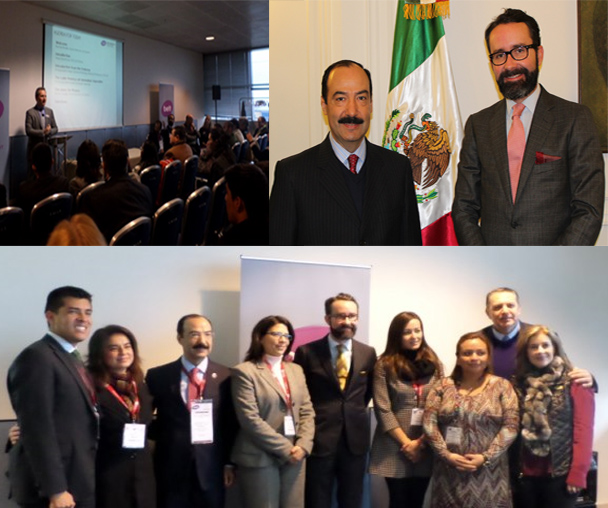 LONDON, United Kingdom, 27th January 2015.- A delegation of representatives from the Mexican Government, led by the Undersecretary for Planning and Evaluation of Educational Policy of the Secretariat of Public Education (SEP), Javier Treviño Cantu, participated in the World Education Forum.
The event brought together members and delegates from the Ministries of Education of over 80 countries with the main objective of analysing mechanisms to improve the quality of teaching, the application of technology and innovation in the learning process, and promote financing.
Accompanied by the Director General of Educational Planning and Statistics from SEP, Antonio Avila Diaz, Undersecretary Treviño completed a working visit from 19th to 24th January, which also included the BETT Technology Fair, considered the most important in the world, focused on educational technologies.
In this event, the Ambassador of Mexico to the UK, Diego Gomez-Pickering and Mark Shashoua, CEO at the i2i Events Company announced the holding of the first BETT Latin America Leadership Summit in Mexico, in October this year.
Additionally, the delegation from SEP participated in the Conference of the Organisation for Economic Co-operation and Development (OECD) entitled Education Policy Outlook 2015: Making Reforms Happen.
During his speech Undersecretary Treviño noted the challenges and successes of the constitutional education reform, promoted by President Enrique Peña Nieto and conceived as the most important in the history of our country and one of the most comprehensive and profound worldwide.
The education reform in Mexico was explained through a special presentation on the programme which highlighted the same depth and scope stand with regard to recent advances in the field, in most of the OECD member countries.
This conference was attended by representatives from more than 20 countries, where it was presented the latest OECD report on education progress achieved by member countries, including Mexico, between 2008 and 2014.

---oo000oo---