MEXICAN COMMUNITY PARTICPATES IN THE "LORD MAYOR'S SHOW 2015"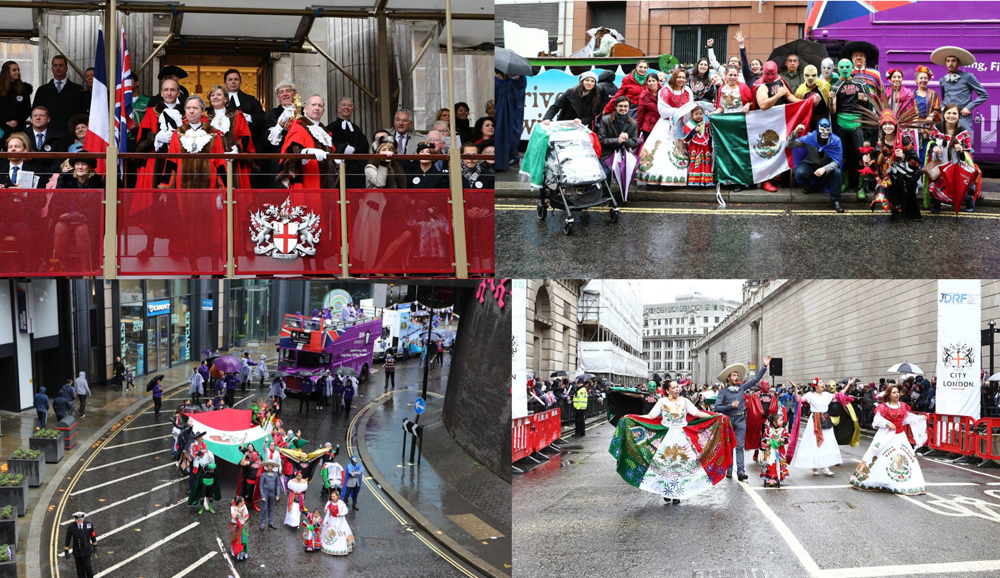 LONDON, United Kingdom, 26th November 2015.- Different Members of the Mexican community in this city, including entrepreneurs, businessmen, academics, journalists and students among those who attended and marched in the traditional "Lord Mayor's Show 2015" which celebrated its 800th year, headed by the Lord Mayor of the City of London.

In the event celebrated on 14th November, which was this year attended by over 7,000 participants, 20 bands, 150 horses and dozens of parade cars, including patrols, helicopters, ambulances and military and navy vehicles, the participation of the Mexican community was highlighted, some of the participants wore traditional and folk dresses, even wrestling masks.

Leading the Mexican display the president of the Mexican Chamber of Commerce (MexCC), Hayaux Yves du Tilly, who every year helps to coordinate Mexican participation along with Hortensia Célis, community leader and host of the popular radio program Mexicanos en Londres.

As part of the parade, maritime expert Alderman Jeffrey Mountevans was elected as the new Lord Mayor of the City of London, replacing Alan Yarrow, who concluded his annual period as the head of this liability covered by the financial services and business' in the UK.

With the participation of 155 organisations hailing from all over the UK and from China to Mexico, this year's Show demonstrated exactly why London is widely regarded as the most cosmopolitan city in the world. The route was over three and a half miles long and filled the whole space between Bank and Aldwych from 11am until 2.30pm, cheered by hundreds of thousands in the crowd and watched live on BBC1 by millions more.
The Lord Mayor's Show 2015 also included a parade of barges along the Thames River, completing a show enjoyed by thousands of Londoners who attended and participated proactively, despite the persistent rain that occurred that day.
--oo00oo--