MEXICAN "MARITIME AMBASSADOR" APPOINTED FOR THE IMO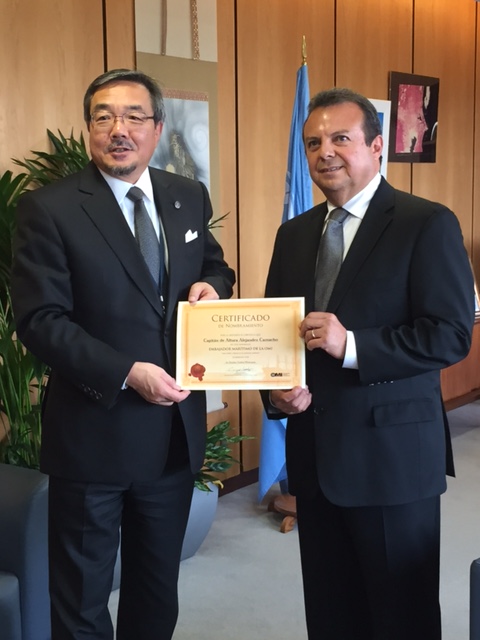 LONDON, United Kingdom, 23rd November 2015.- In the framework of the celebration of the 29th assembly of the International Maritime Organisation (OMI), Koji Sekimizu, Secretary General, granted the appointment of Maritime Ambassador from Mexico to Captain Merchant Navy Mario Alejandro Camacho Vidal.

Captain Merchant Navy Camacho Vidal is the first ever Mexican who's granted with this recognition. This is a good will and honorary posting, which will reinforce the maritime culture and professions of our country.

In a ceremony performed at the headquarters of the IMO, the Ambassador of Mexico, Diego Gomez-Pickering, as Permanent Representative at the IMO, welcomed the appointment which will strengthen the presence and links of our country with the IMO and explained that the nomination of the new Maritime Ambassador is part of the efforts for new generations to consider making a maritime career.

It is noteworthy to mention that the appointment takes place in the framework of the campaign of Mexico to renew its membership as a Category "C" member for the 2016-2017 period, through the voting process that will take place in the framework of the 29th General Assembly of the IMO referendum which will take place from today until 2nd December.

During almost 60 years of membership, our country has maintained a committed presence at the IMO Council, which is formed by 40 countries, divided into three categories, according to their global maritime presence.

Mexico is currently a Category "C" member at the Council for the respective biennium 2014-2015 which is near to end, for which he has formally submitted the bid for re-election reinforcing its commitment to strengthen its presence before the specialized United Nations agency based in this capital city.

Mexico's membership to the IMO has enabled it to support maritime security operations, contribute to the protection of the marine environment through international agreements and increase its technical cooperation with member countries.

To achieve re-election, Mexico will maintain the same level of proactive participation in the work of the IMO Council, which on 1st January 2016 will begin a new stage with Ki-tack Lim as the new Secretary General, as successor of Koji Sekimizu.


--oo000oo--