MEXICO GUEST OF HONOUR AND WINNER OF THE 'BRITISH POLO DAY'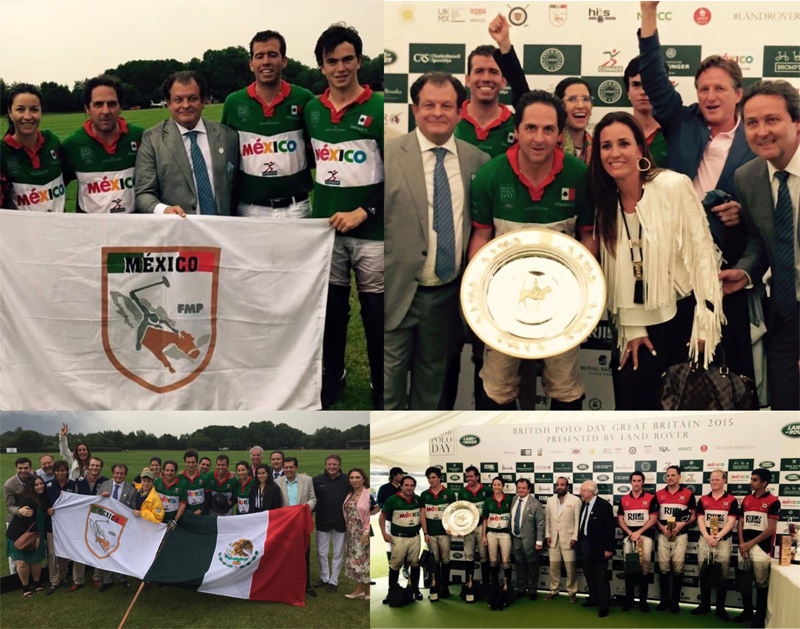 OXORDSHIRE, England, 24th June 2015.- As part of the sports programme of the Dual Year celebrated between Mexico and the United Kingdom, the Mexican representative team was the guest of honour and the winner of the title of the British Polo Day 2015.
Sponsored by Mexico's National Commission for Physical Culture and Sport (CONADE) and the Mexican Federation of Polo (FMP), the Mexican team was integrated by Imelda de Alba, Juan Jose de Alba, Luis Perez Ochoa and Diego Solorzano, who won the championship with a final score 3-1.
Additionally, and as part of the philanthropic commitment of the British Polo Day it
took place a classic charity auction, which year by year supports different benefit foundations.
At the end of the match, the guests gathered around to make a toast with the Traditional Scottish Highland Quaich for the existing ties between Mexico and the United Kingdom.
The match held in Oxfordshire recalled the figure of the Mexican polo player Carlos Gracida, considered one of the best polo players in the world, who graced the polo lawns of England for four decades as if he was born to ride there, winning the British Open at Cowdray Park Polo club a record breaking 10 times and teaching polo techniques to Princes William and Harry.
Players, VIPs and polo aficionados from Mexico, the UK and beyond marked an enduring legacy that exists for nearly 200 years between the two countries in a day of exhilarating polo and philanthropy.
In this context, representatives of the Embassy of Mexico in the UK and the Mexican players participated in the charity and promotional activities during the British Polo Day that concluded with the commemorative match of the Dual Year Mexico-UK 2015.
For the programme of activities for the Year of Mexico in the UK, visit the website: www.mexicouk2015.mx.
--oo00oo—