MEXICO'S CONTRIBUTION SUPPORTS SYRIAN REFUGEES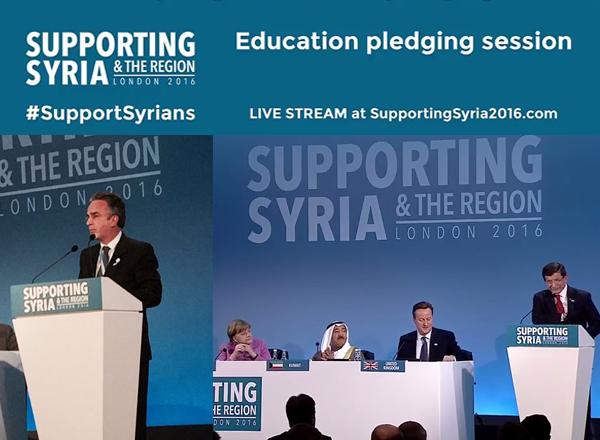 LONDON, United Kingdom, 4th February 2016.- The Government of Mexico, through the Secretariat of Foreign Affairs, announced a contribution of USD $3 million to support the most vulnerable Syrian people, such as children and refugees, in the framework of the Supporting Syria and the Region conference, celebrated today in this capital city.
Ambassador Miguel Ruiz-Cabañas, Under-Secretary for Multilateral Affairs and Human Rights, in representation of the Government of Mexico, detailed that this contribution is intended to urgently support the food and nourishing crisis that Syrian refugees are living.
The Under-Secretary said that USD $1 million will be given to United Nations Children's Fund UNICEF; and the other USD $2 million will be directed to the World Food Programme (WFP) and the United Nations High Commissioner for Refugees (UNHCR). Thanks to the contribution of Mexico, 1.9 million Syrian refugees will be assisted which of 30% are children, and food necessities will be covered for almost 3 million Syrian refugees living in the neighbouring countries (Egypt, Iraq, Jordan, Lebanon and Turkey).
During the Conference, Under-Secretary Ruiz-Cabañas, recalled that almost after five years of conflict in Syria, the absence of a diplomatic solution has derived in 250 thousand death, 4.6 million refugees and almost 13.5 million people in need of humanitarian assistance. The Under-Secretary stressed that humanitarian support does not substitute either a political or diplomatic solution for this conflict.
The Supporting Syria and the Region conference, or London Conference 2016, was organised by the UK, Germany, Kuwait, Norway, the United Nations (UN) and the World Bank. With the participation of 70 countries, representatives of different organs of the UN, regional organisations and civil society in order to increase financing for humanitarian immediate response for conflicts like this and also for refugees that are displaced in the region.
It is expected that this initiative paves the way to restart the peace talks -postponed last 3rd February- convened by the Special Envoy of the Secretary General of the Organisation of the UN to Syria, Staffan de Mistura, which intends to achieve a political solution to the conflict in Syria.
--oo00oo--