IMPROVING THE DISTRIBUTION OF MEXICAN PRODUCTS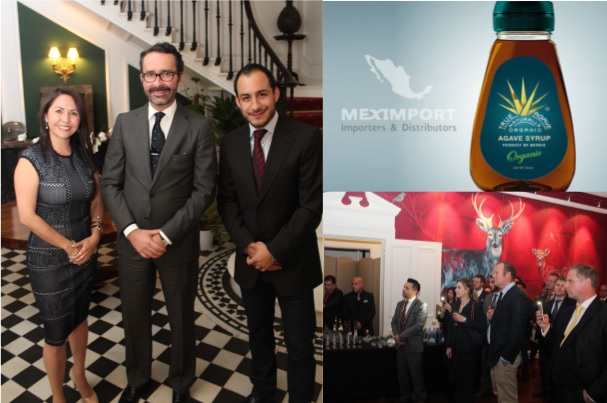 LONDON, United Kingdom, 6th October 2015.- In the framework of the economic programme of the Year of Mexico in the United Kingdom took place the official presentation of the Meximport group which manage and supplies Mexican food and beverages from its website serving and supplying restaurants, supermarkets and delicatessens.
The new gastronomic group its integrated by four companies: MexGrocer; MexImport; Tequila & Mezcal Fest y Las Catrinas, which together will promote the marketing of grocery brands and national beverages in the European market, taking advantage of the increased demand and consumption of Mexican food products in the United Kingdom.
At the Official Residence of the Government of Mexico, Ambassador Diego Gomez- Pickering, led the formal presentation and recalled that the preference for perishable products from Mexico registered an upturn in the UK, even surpassing sales of Chinese food.
Katya Torres de la Rocha, CEO of Meximport Group, explained that the consumer's demand for Mexico's gastronomy has led to the opening of new restaurants of traditional Mexican food.
According to recent data, only in 2013 were sold in the UK £ 100 million (USD $ 150 million) of tortillas and £ 67 million (USD $ 100 million) of ingredients to cook products such as enchiladas, burritos and tacos.
By combining their efforts, the founders of this business initiative, Katya Torres de la Rocha, from Mexgrocer, the importer of Mexican products; Eduardo Gomez-Resendiz, Director of Tequila & Mezcal Fest, and Francisco Young-Garcia, former CEO, EMEA of GRUMA in Europe, all together will seek to position Mexican gastronomy as the most popular in the UK.

--oo00oo--