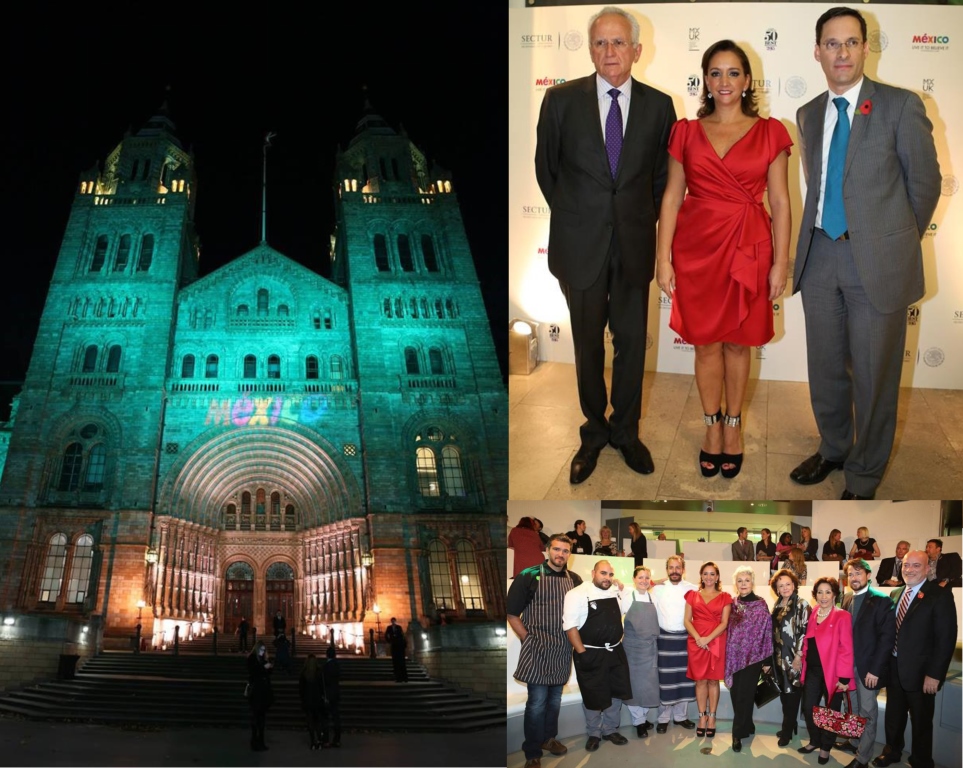 Fotos: Roger Alarcón

NEW CAMPAIGN TO PROMOTE TOURISM IN MEXICO IS LAUNCHED IN THE UK
LONDON, United Kingdom., 7th november 2014.- In the course of the World Travel Market 2014, Mexican Secretary of Tourism Claudia Ruiz Massieu led the official launching of the campaign "Live it to Believe it", which this year includes gastronomy as a key element to project Mexico as a dynamic, progressive and modern destination.
Throughout the presentation in the UK, in the presence of more than 500 representatives of national and international tourism industry, tour operators, members of the diplomatic core, opinion leaders and media, the head of Sectur revealed that Mexico will be hosting the event "Latin America´s 50 Best Restaurants" in 2015 and 2016.
At the Natural History Museum in London, the Mexican Secretary explained that the UK is the third most important tourism market for our country and the largest in Europe, as in the period from January to September 2014, 346,451 British tourists traveled to Mexico, representing 9.8% more than in 2013. This figure allows foreseeing the achievement of the goal to reach half a million in 2015, officially designated the Year of Mexico in the UK and the Year of the UK in Mexico.
Accompanied by the governor of Quintana Roo, Roberto Borge, the Director General of the Mexico Tourism Board (CPTM), Rodolfo Lopez Negrete and the Deputy Head of Mission of the Embassy of Mexico in the United Kingdom, Alejandro Estivill; Ruiz Massieu attested on giant screens the presentation of a series of videos within the campaign of different tourist destinations featuring this year the states of Chiapas, Guanajuato and Oaxaca.
During the working trip to the capital city of the UK, a group of renowned Mexican chefs accompanied the head of the Mexican Secretary of Tourism, who were presented at a press conference and in videos authored by producer Pedro Torres.
Subsequently, those attending the reception at the Natural History Museum, enjoyed the variety of authentic Mexican food samples prepared by chefs Benito Molina and Diego Hernandez which included shrimp, pork, escamoles and sea urchin.
Guests also tasted green ceviche tostadas, abalone with chipotle and pibil pork with escamoles, creation of the chef from Baja California, Benito Molina; while Mexican chef Elena Reygadas -considered by the S. Pellegrino list as the best chef in Latin America- offered worms that grow in the Zapotitlan biosphere.
Previously, on the 4th November, it was opened the Pavilion of Mexico at the World Travel Market at the ExCel Convention Center, recognized as the world's largest tourism fair, with almost 50,000 visitors, where about 80 companies participated, between tour operators, airlines, hotel chains and various Mexican states, in order to develop business with representatives of the global tourism industry.