MEXICAN DESIGN SHOWROOM OPENING IN LONDON
15th - 18th September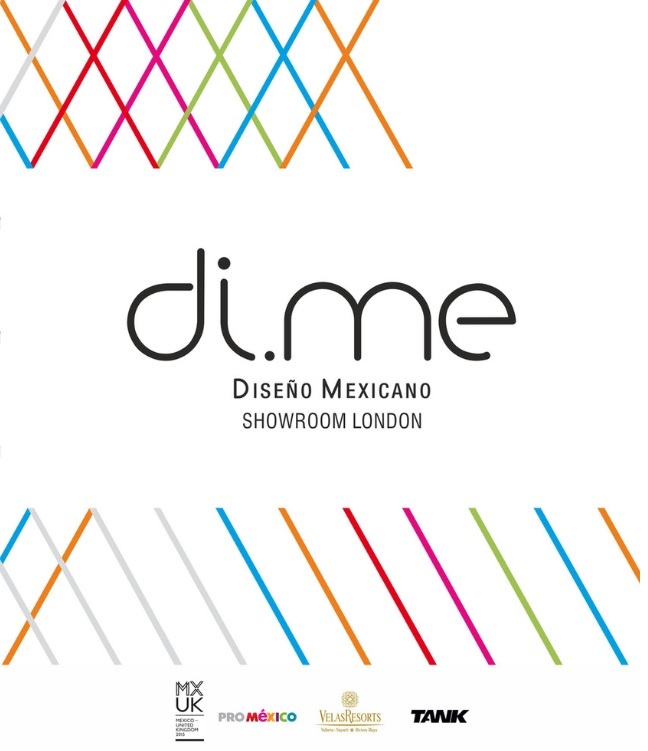 LONDON, United Kingdom, 14th September 2015.- In the framework of the promotion of Mexico during 2015, ProMexico inaugurated Di.Me (Diseño Mexicano, Mexican Design) –the first Mexican fashion and design showroom in London- representing Mexico's most representative contemporary fashion designers.
Capitalizing on the success of Di.me Paris, the exhibition in the heart of London will present some of the most influential contemporary Mexican designers. For more information check out our Facebook page:
https://www.facebook.com/DiMe-Showroom-London-422969851208955/timeline/
The objective of this design showroom is to position México and its designers in London, one of the most important cities for fashion. On the other hand, it looks forward to disseminate the talent and creative capacity of Mexican designers as well as to generate business opportunities to export products and open new trade markets.
In collaboration with Tank magazine, Di.Me will show spring-summer 2016 collection of 15 Mexican designers, as well as works of 5 industrial designers, from15th – 18th September 2015, previous to Fashion Week London. During this week, specialized fashion press will have the opportunity to meet and greet the participating designers to get to know their collections.
The exhibition is part of the celebration of the Dual Year celebrated between Mexico and the United Kingdom, which main objective is to promote a better understanding between both countries peoples. During 2015, the governments of Mexico and the United Kingdom have conducted more than 100 activities, to deepen bilateral relations and strengthen ties of cooperation in various fields such as culture, art, trade, culture, education, among others.    

For more information about this event and Mexican Designers please visit this website: https://view.publitas.com/p222-4715/dime-showroom-london/page/1

Participant Fashion Designers:
Boks & Baum (jewellery) – Dalia Pascal (jewellery & hand-bags) – Royal Dalia (jewellery & hand-bags) – Sabido & Basteris (jewellery) - Carla Fernandez (women collection) -  Pink Magnolia (women collection) – East Club (men collection) -  Ricardo Seco (men-women collection) – Mancandy (men-women collection) – Mexicouture (Platform to present Mexican new talents. The Designers are: Chabe (women collection) –  Julia y Renata (women collection) -  José Sanchez (leather products) – Laddu (hand-bags) – Oriana Rodríguez (hand-bags).

Industrial Designers:

Ariel Rojo (art & design)  – Gala Fernandez (art and design)  – Liliana Ovalle (furniture design) WHO&CO (furniture design) – Gildo Medina (illustration art)

Di.me London location:
Tank Magazine, 91 Great Portland Street, London W1W 7NX.
Date:Tuesday 15th until Friday 18th september.
Opening hours: 9.30am - 7.00pm.

Press inquiries and interviews, please contact Sara Henrichs, This email address is being protected from spambots. You need JavaScript enabled to view it.; tel. 07813850033.