NEW MEXICAN PASSPORTS "G PRIMA"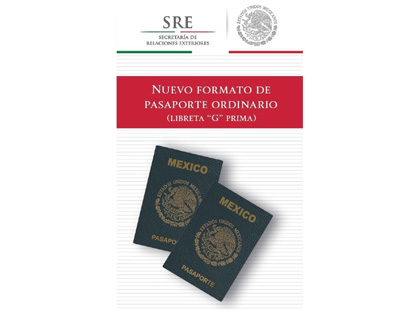 LONDON, United Kingdom, 3rd February 2016.- The Consular Section of the Embassy of Mexico in the United Kingdom has initiated to issue the new type of passport "G Prima", which includes important security characteristics, according to the international agreements subscribed by the Mexican Secretariat of Foreign Affairs with the International Civil Aviation Organisation (ICAO), standardising the issuance of passports in Mexico and overseas.
It is noteworthy to mention that since 1st February 2016, the Consular Section located at 16-A St George Street, W1S 1FD, started to receive passport applications valid for 3, 6 and 10 years through the MEXITEL system, which will be processed by the SRE headquarters in Mexico City, and will be delivered approximately four weeks later after its application at the Consular Section in London.
It is important to highlight that the Consular Section of the Embassy of Mexico in London will continue to process passports valid for one year only in cases of justified emergencies, delivering them the next working day.
For more information about the procedure and requirements to issue a passport, please visit our website:
http://consulmex.sre.gob.mx/reinounido/index.php/pasaportes
---oo000oo---